1,500-Plus South African Jews and Christians Learn to Counter the BDS Movement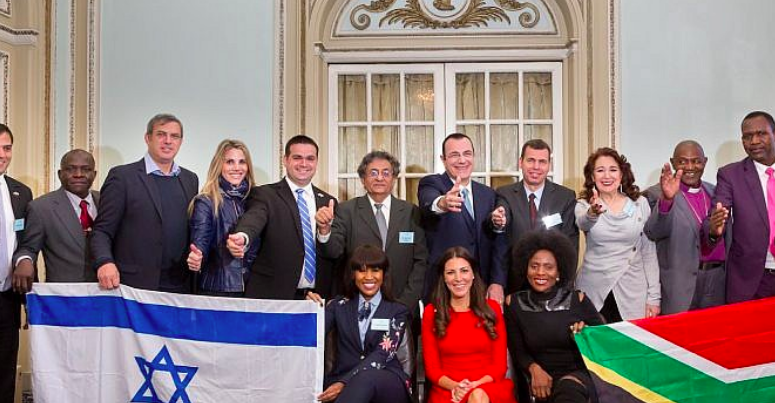 Pictured Above: Jewish and Christian South African leaders. Credit: South African Friends of Israel.
(JNS) More than 1,500 Jews and Christians attended four pro-Israel events throughout South Africa focused on strengthening the local pro-Israel community and countering BDS and Israel delegitimization.
The initiative, which was sponsored by the Ministry of Strategic Affairs and Public Diplomacy and Maccabi World Union, in conjunction with the Zionist Federation of South Africa, took place from June 3 to June 10 in Cape Town, Johannesburg and Durban.
Panels and discussion emphasized on working together with the local Christian leadership in raising support for Israel. At the same time, the Jewish community also provided talks and discussions on strengthening its activities and providing them with effective tools to deal with Israel delegitimization and boycotts.
The events in South African come amid increasing pressure from pro-Palestinian organizations pushing the BDS movement in the country, as well as from the ruling African National Congress Party, which has long been hostile to Israel. In May, South Africa recalled its ambassador to Israel in the wake of the deaths of Palestinian protestors along the Israeli-Gaza border. Last December, senior Hamas figures attended the ANC's national conference.
"The reality in South Africa is deeply disturbing, given the increasing prominence of the BDS movement within the country and the solidarity shown by the ANC towards terrorist organizations," said said Israeli Strategic Affairs Minister Gilad Erdan. "I decided to focus my ministry's efforts on activities in South Africa in order to strengthen the local pro-Israel community and their fight against BDS and terrorism."
You may also be interested in...