11th Annual High Heat Tournament Brings in over 600 Players to Raise Money for Magen David Yeshiva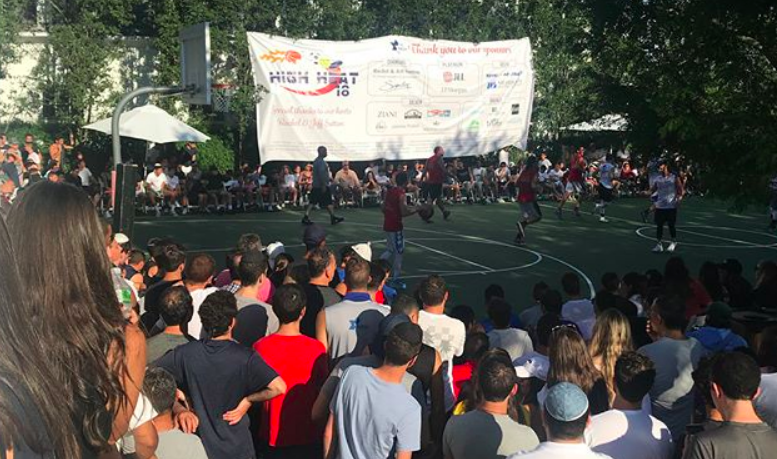 On July 15, one of the biggest tournaments of the Summer drew in their immense crowd of community players. Hundreds of players geared up to compete in a multitude of different sports including physical and even digital at the 11th Annual High Heat Tournament.
This year's High Heat tournament was deemed as a great success. According to the Deal Police, this event is the largest tournament of the Summer. Around 650 community members signed up to play in various sports and games throughout the sunny Summer day. The age range was wide with players starting at 15 years old all the way up to 75 years old for the backgammon tournament and every age in between. Within High Heat, there are about 10 different tournaments going on throughout the day including an elite expert division dubbed "Hot Shot."
Volleyball, basketball, soccer, backgammon, tennis, dodgeball, e-sports, and more brought a multitude of spectators to watch the games. All games took place in almost 20 different homes and locations in and around the Deal, NJ area.
The main event took place in the home of Jeff and Rachel Sutton as it does each year. Prime Cut catered the dairy BBQ. Since the event fell out during the 9 days before Tisha B'av, a period in which it's customary for Jews to abstain from eating meat, Prime Cut got creative and provided a fantastic spread to all attendees. Fish burgers, pizza, fish fillets on the grill, salads and more were offered to hungry players and spectators.
"The Suttons are fantastic hosts," said Eric Setton, Executive Coordinator of High Heat. "They are our biggest sponsors, graciously letting us use every inch of grass they have to set up this event. I couldn't be more grateful."
Strollo's Lighthouse, a community favorite, set up shop on location at High Heat. There was also a Chinese Auction, as well as a car raffle. The car raffle was circulated on social media as well. The fun part was that if you bought in to play, it cost $100 a key and if you got the key that starts the engine, you won $10,000 or $12,000 towards the car lease of your choice.
Another special part of this event is the massive Blood Drive that takes place each year. For whatever reason, in the Summer there is generally lower amounts of blood drives and blood donations which leads to a blood shortage. High Heat is the biggest source, from a single event, of blood donated in the entire tri-state area during the Summer.
"The day was perfect and just incredible," reported Setton of the success of the High Heat tournament. "It's always great to see the whole community come out to support it, I'm just thankful that I get to be involved with such a nice event."
Players donated anywhere from $62 to $250 to play a sport and one high stakes backgammon tournament was set at $10,000 to participate. All the winners went home with trophies of various shapes and sizes depending on the sport. It was a very successful day of fundraising. All of the money raised was donated to Magen David Yeshiva located in Brooklyn, NY.
For more pictures and to find out who won, check them out on Instagram @highheat2018.
Frieda Schweky is Sephardic.Org's official community events reporter. For inquiries and to get involved with our site, please contact Frieda via email.
You may also be interested in...