11th Annual Kites for a Cure Carnival Boasts Crowd of Over 1,000 People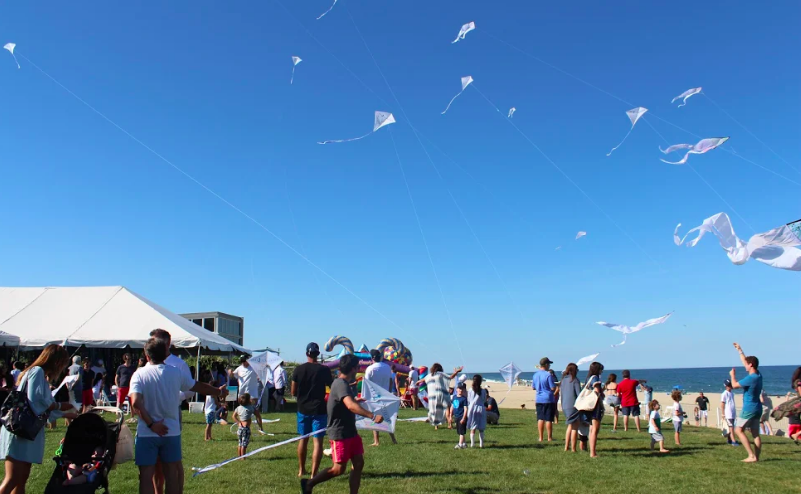 Hundreds of kites soared in the sky's of Deal, NJ on Sunday, July 8 at the 11th Annual Elliot's Legacy Kites for a Cure. This carnival had hundreds of community members in attendance for this significant day of family fun and fundraising.
The Lung Cancer Research Foundation (LCRF) was started in 2007, Its founder came to the realization that there was not enough funding in research for the disease. Cancer is rapidly becoming the leading cause of death around the world and lung cancer is particularly deadly in the US, claiming nearly 450 lives per day. To date, LCRF has funded 348 research grants totaling $31 million. They continue to be the largest supporters of lung cancer research by a non-profit organization.
Elliots Legacy is an event founded in memory of Elliot Chalme A''H by family and friends to support LCRF. All of the proceeds from the carnival go towards this worthy cause. Elliot Chalme was a charismatic community member who was loved by his family and everyone who knew him. Chalme passed away in 2006 at the young age of 56 from lung cancer. Elliot's Legacy will live on through his family as well as this event which has raised millions of dollars over the years for lung cancer research.
On July 8, the 11th annual Kites for a Cure Carnival took place in its usual location at the home of the Cohen family on Jerome Drive in Deal, NJ. This year, over 1,000 people were in attendance throughout the day. Elliot was an avid kite flyer so, in order to make this day one he would enjoy, hundreds of kites were handed out to attendees. There was also a large tent dedicated to kite decorating. The South Jersey Kite Flyers came by as they do each year to help attendees get their kites in the air, as well as to fly some of their larger-than-life inflatable kites.
"Elliot's Legacy was created to be a day that exemplified who our father, Elliot Chalme A''H was," said Richie Chalme, Elliot's youngest son. "He adored his grandkids, enjoyed life, and always had a smile on his face. To have 1,000 people from young to old enjoying the day while supporting the organization to cure this disease that took him from us at a young age is humbling and inspiring."
There was a Chinese auction as well that featured a Peloton bike which spiked particular interest. The carnival featured a number of inflatable and mechanical rides. Popcorn and cotton candy were given out to eager, smiling children.
There was also a tent for face painting and many children who opted in were seen all around the carnival with rainbows, cupcakes, and snakes colorfully painted on their faces and arms. The activities and entertainment at the carnival were seemingly endless.
This year's event raised an incredible amount of money to support the Lung Cancer Research Foundation.
"We couldn't have asked for better weather," said Meghan Wood, Director of Development and Regional Major Gifts at the Lung Cancer Research Foundation. "We are very appreciative to the Chalme family for all of their hard work and dedication to the cause."
To learn more about Elliot's Legacy, check out their Instagram @elliotslegacy. To donate to the cause, head to LCRF.org.
Frieda Schweky is Sephardic.Org's official community events reporter. For inquiries and to get involved with our site, please contact Frieda via email.
You may also be interested in...