2018 Passover Hol Hamoed Activity Guide for the Entire Family!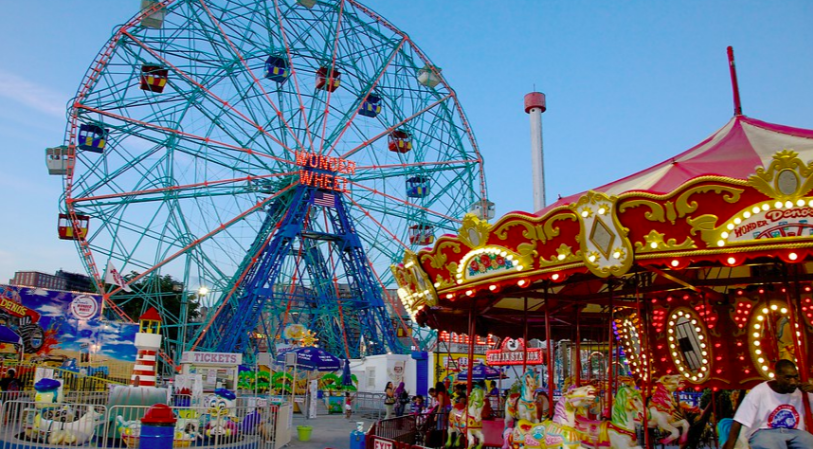 This year, the holiday of Passover's Yom Tov days falls out on Shabbat which leaves a few weekdays wide open for Hol Hamoed family activities! Monday through Thursday is Hol Hamoed which means there is a whopping four days in the middle of the holiday to enjoy a break from school and work!
So what activities should you partake in this year with the whole family? Don't worry, we've got you covered. Below is a list of activities containing both modern and classic ideas that never get old. Keep an opened mind and itinerary and use these precious days wisely to create new memories and try something you never experienced before!
Here are some fun and amazing suggestions of activities for you to do with you family over the Passover Hol Hamoed break.
1. Virtual Reality
Give something new and futuristic a try! Virtual Reality spots are popping up all over the place and for a good reason, it's so much fun! Put on the VR goggles and be transported anywhere in the world!
You can fly, shoot, run, chop, the possibilities are truly endless. This is sure to be a fun activity for the whole family, and they even have multiplayer games! Check out this amazing option located right here in New York City.
They are open 7 days a week and children ages 7 to 14 are admitted with an adult only. This particular place doesn't allow children under 7 but others do!
2. Gazillion Bubble Show
This one's great for kids of all ages. Get your tickets for Manhattan's bubbliest show! Audiences are delighted with an unbelievable experience. Some even find themselves inside a bubble!
With Mind-blowing bubble magic, spectacular laser lighting effects, and momentary soapy masterpieces, you will smile, laugh, and feel like a kid again!
Click here to book tickets today!
3. Art Station
Located at 1303 Ave U in Brooklyn, NY, this place has tons of fun things to paint and create to keep your family busy for hours! Choose to paint your masterpiece on plaster, wood, or canvas and get inspired! Or you could head in to Art Station and get some great art supplies they have for sale and do an arts and crafts day at home on Hol Hamoed!
The possibilities are limited only by your imagination! Don't have a great imagination? That's fine! Join an instructional class at Art Station, classes are available on all Hol Hamoed days at 1PM for children ages 5 and up, just call in ahead to book your spots!
You can contact Art Station by calling them at 718-654-5454 or you can check them out on Instagram @theArtStationNy.
4. Axe Throwing
Yes, you read that correctly, axe throwing. For a truly original and fun new experience, give this activity a try! A bunch of axe throwing locations are popping up all over the country. This new trend is sweeping the nation and believe it or not, some places allow kids as young as 7 years old to give it a try!
It's very fun and different than anything you've done before. Axe throwing is a skill that's surprisingly easy to pick up and can feel very empowering when you toss and axe and hear it stick in to wooden bullseye target! Teens and adults will surely enjoy this one!
Click here for more information or to book a session. Walk-ins are also welcome.
5. Trapeze Lessons
You don't need years of circus experience to fly, in fact all you need is one great two hour trapeze lesson! The Trapeze School of New York has two locations in NYC including one in Williamsburg, Brooklyn and a rooftop location by Pier 40 in Manhattan with a view of the Hudson River and the NY city scape.
They have plenty of day classes for kids during Hol Hamoed. Bring the whole family for the All Day Circus Experience Monday April 2nd from 8am-4pm. This is a day to try a variety of the acts they teach all in one day. Children will have the opportunity to attempt flying trapeze, trampoline, silks, juggling, and more!
For more information call (212) 242-8769 or check out their website.
6. Trampoline Park
If you haven't tried this yet, it's time you did! Jumping from trampoline to trampoline will make you feel like a kid again and keep your children entertained for hours!
There are a bunch of different indoor trampoline parks all over the tristate area just google search the location that makes sense for you. Play jumping basketball, bouncing dodgeball, and diving into a giant foam pit always makes for a good time!
Whatever you do, adult to adult, don't underestimate the physical activity. This IS a work out and requires stamina!
7. Amusement Parks
Six Flags Great Adventure, Dorney Park, Hershey Park, and Luna Park, are all amazing options for some family fun in the Tri-state area! The endless rides and games will have everyone busy and entertained all day long!
This is definitely an 'oldie but a goodie'. No matter how many times you go, the thrills always come rushing back when you walk through the front gates of any amusement park!
8. Zoo and Aquarium
If you have multiple kids ages 5 and under, there's no better place to take them than a zoo or aquarium! Little kids love observing animals, they just do!
Seeing the excitement come to their faces when they see a monkey or spot a neon colored fish makes the whole day worthwhile. The Prospect Park Zoo and the New York Aquarium located on Coney Island beach are both great options if you care to stay local in Brooklyn, NY.
Whatever you choose to do, know these trips are forming positive family memories your kids will keep with them their whole lives. So have fun, take lots of pictures, and get out there!
Here are some important tips before you head out with your entire family on Hol Hamoed Passover as well.
1. Groupon
Before booking anything, check Groupon! They usually will have cheaper tickets or options for all of the above activities and more! Check out Groupon Local here https://www.groupon.com/browse/new-york?context=local
2. Form a Club
Don't feel like going out every day but can't stand to see your kids sitting home doing nothing? Club is a great way to accomplish this. Coordinate with three other parents of your kids' friends and assign each parent a different Hol Hamoed day.
That parent takes the kids wherever they feel like on their day while you relax and you get away with only planning one day of activities. This leaves you with three days to relax, maybe even groupon yourself a massage! Meanwhile your child is amused all four days! It's a win win!
3. Don't Forget the Food!
It's Passover after all, so you can't forget to pack lunch and snacks for the family! A simple way to satisfy everyone is to prepare matzah sandwiches.
Just bring a box or two of matzah, creamed cheese, hard boiled eggs, chocolate spread, tuna, etc. Don't forget plastic knives, plates, and napkins! When it's lunchtime break it all out and let everyone assemble their own sandwiches.
Frieda Schweky is Sephardic.Org's official community events reporter. For inquiries and to get involved with our site, please contact Frieda via email.
You may also be interested in...