4.8-Magnitude Earthquake Hits Israel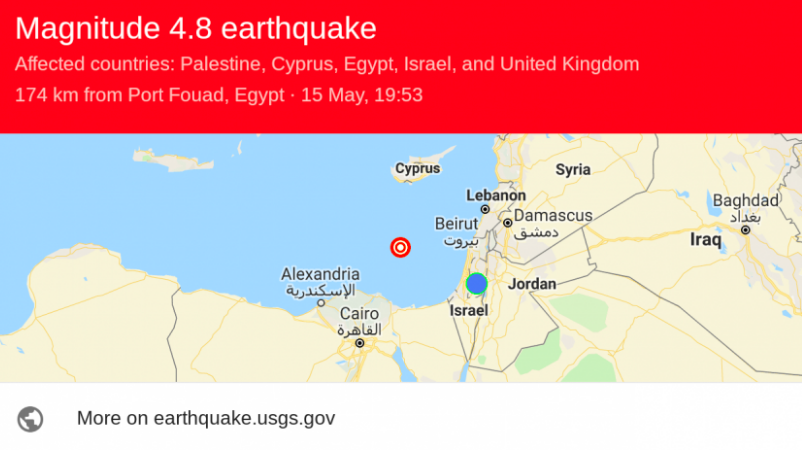 Pictured Above: An alert confirming an earthquake off the coast of Israel on May 15, 2019. Source: Screenshot.
(JNS) Israelis from Beersheva to Jerusalem and Tel Aviv reported feeling the ground shake on Wednesday night, and their suspicions were confirmed by the European-Mediterranean Seismological Centre, which reported that an earthquake measuring 4.8 on the Richter scale had shaken the country.
According to EMSC, the quake's epicenter was in the Mediterranean Sea off the coast of Israel, and also affected Cyprus, Jordan and Egypt.
In Israel, no injuries or damage were reported, but some Israelis posted videos of their swinging light fixtures on social media.
Though no additional warnings have been issued, Israel's Home Front Command published instruction on its Twitter page regarding steps to take in the event of an earthquake.
Situated on the Syrian-African fault line, the Jewish state is considered at risk of earthquakes, with major tremors occurring in the country every 80 to 100 years.
The last major earthquake in Israel was in 1927, a 6.25-magnitude quake that killed 500 people.
Known as the "Jericho Earthquake," it only lasted for about five seconds and shook the country from the quake's epicenter in the northern Dead Sea region to Jerusalem, Shechem, Lod, Tiberias and Ramle. The damage was immense, with 700 people injured apart from the deaths and massive structural damage reported throughout the region.
In 2016, the Knesset Foreign Affairs and Defense Committee's Home Front Readiness Subcommittee estimated that a 7.5 magnitude earthquake would kill 7,000 people, injure another 8,600 and leave 377,000 homeless, causing approximately NIS 200 billion ($56 billion) in damages.
You may also be interested in...