Abbas Meets Putin in Moscow in Attempt to Reduce US Role in Peace Process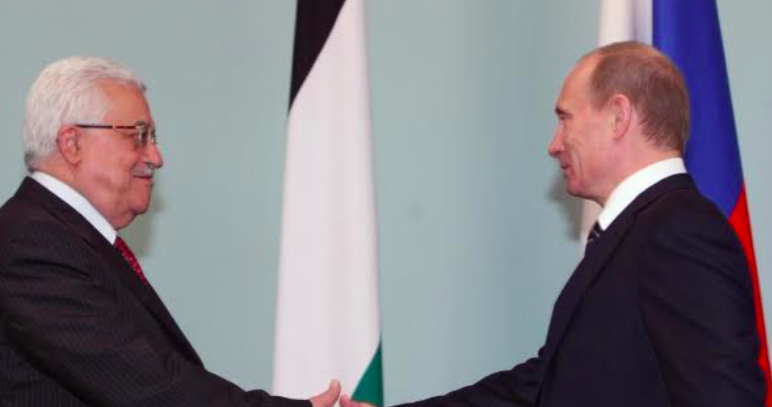 Pictured Above: Russian President Vladimir Putin meets with Palestinian President Mahmoud Abbas in Moscow, on April 07, 2009. Photo by Dmitry Azarov / Flash90.
(JNS) Palestinian Authority President Mahmoud Abbas met with Russian President Vladimir Putin on Monday, in an attempt to sideline the United States and strengthen Russia's role as a power broker in negotiating an outcome to the Israeli-Palestinian conflict.
Abbas told Putin during their meeting in Moscow that, "we state that from now on we refuse to cooperate in any form with the U.S. in its status of a mediator, as we stand against its actions." The Palestinian Authority has refused contact with officials from the United States since President Donald Trump officially recognized Jerusalem as the capital of Israel in December.
Abbas has been attempting to increase the number of countries involved in solving the conflict, while Israel has been leaning towards the United States. In January, Putin stated that he was "deeply concerned" by the U.S. administration's decision to recognize Jerusalem, expressing its belief that it would "block possible paths to peace in the Middle East".
Yet, Monday, Putin informed Abbas that he had spoken to Trump just prior to the meeting, stating, "naturally we spoke about the Palestinian-Israeli settlement." Putin then passed along a message from Trump, adding, "I would like to convey to you his best wishes."
Abbas is scheduled to address the United Nations Security Council on February 20, where he is expected to denounce U.S. President Trump's recognition of Jerusalem as the capital of the state of Israel, and call for the immediate recognition of a Palestinian state.
You may also be interested in...