After Four Week Manhunt, IDF Captures Arab Terrorist Who Killed Two Israeli Soldiers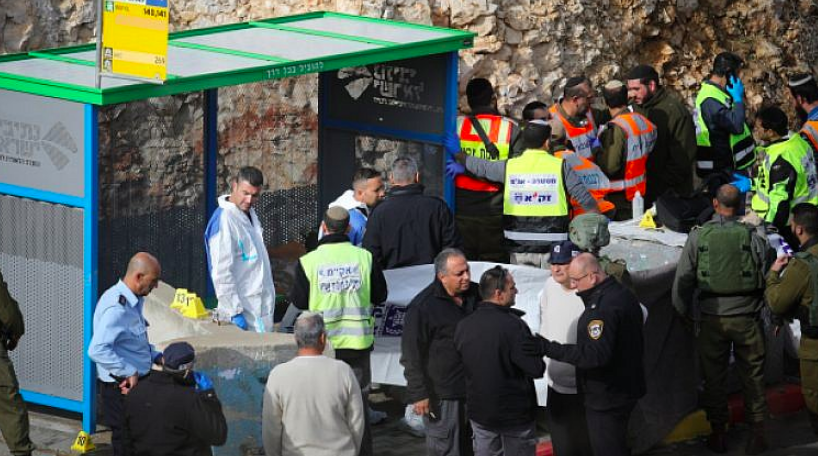 Pictured Above: Israeli soldiers and police inspect the scene of a shooting attack at the entrance to the Israeli settlement of Givat Asaf in the West Bank on Dec. 13, 2018. Photo by Hadas Parush/Flash90.
(JNS) Asem Barghouti, the Palestinian Authority Arab accused of killing two Israeli soldiers and injuring two others at the Givat Asaf community north of Jerusalem on Dec. 13, was captured by Israel Defense Forces near Ramallah after a nearly four-week manhunt.
Pulling up to a bus stop outside the Jewish community near Beit El in southern Samaria, Barghouti shot and killed IDF soldiers Cpl. Yosef Cohen and Sgt. Yuval Mor Yosef, seriously injured IDF soldier Netanel Felber and wounded a civilian woman before fleeing the scene.
Barghouti is believed to have taken part in another shooting four days earlier with his brother, Salih. Seven Israelis were injured in the attack at the Ofra bus stop just minutes from Givat Asaf, including a seven-month pregnant woman, Shira Ish-Ran, whose baby was delivered by emergency Caesarean section but passed away just three days later.
Salih was shot and killed by IDF forces on Dec. 12 while trying to evade arrest.
Asem Barghouti was found with a Kalashnikov assault rifle, multiple full ammunition magazines and night-vision equipment. He was transferred to the custody of the Shin Bet for questioning.
"The arrest by the Israel Security Agency and soldiers from the Yamam Brigade was the culmination of an intelligence and operational effort which began immediately after the attack, during which the Shin Bet and IDF used intelligence, operational and technological means to locate the terrorist," the Shin Bet said in the statement.
Israeli Prime Minister Benjamin Netanyahu praised the Shin Bet, IDF and Yamam forces for their successful operation, adding that "the long hand of Israel will reach all those who harm our citizens, and the State of Israel will bring them to justice."
Former Defense Minister Avigdor Lieberman lamented that because the death penalty has not been implemented in Israel, the terrorist will remain alive.

"He should not have been caught alive. He has no right to be caught alive," the mother of Yuval Mor Yosef, Ilanit, told Israel Army Radio on Tuesday morning.
"The news is not consoling; he was already in prison and released, so what is the point?" she said. "The result is that he is alive, and we are dead," she added. "He murdered, and he sits alive. In what normal country does this happen?"
She called on the government to destroy Barghouti's house.
You may also be interested in...