Ambassadors to Israel Mourn US Citizen Murdered in Attack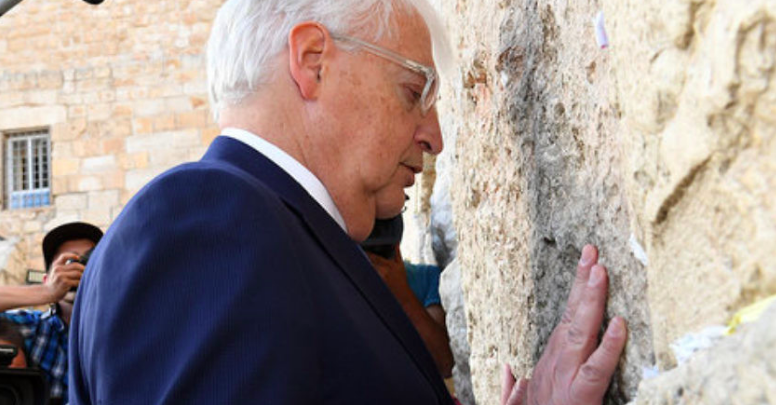 Pictured Above: U.S. Ambassador to Israel David Friedman at the Western Wall in Jerusalem, May 15, 2017. Credit: U.S. Embassy Tel Aviv.
(JNS) Both current U.S. Ambassador to Israel David Friedman and his predecessor, Daniel Shapiro, expressed condolences over the murder on Sunday of Ari Fuld, a dual American and Israeli citizen.
Fuld, a 45-year-old father of four and a passionate pro-Israel activist, was stabbed by a 17-year-old Palestinian terrorist while shopping for groceries outside the Rami Levy supermarket in the Gush Etzion region of Judea.
Fuld was stabbed multiple times, yet still managed to neutralize the terrorist before succumbing to his injuries.
"America grieves as one of its citizens was brutally murdered by a Palestinian terrorist," said Friedman in a tweet shortly after Fuld's death was announced. "Ari Fuld was a passionate defender of Israel & an American patriot. He represented the best of both countries & will be deeply missed. May his family be comforted & his memory be blessed."
Former U.S. Ambassador to Israel Daniel Shapiro also expressed his sympathies and condemned the terror attack, stating, "Deepest condolences to the family and loved ones of Ari Fuld, murdered in Gush Etzion today. The attack was an outrageous act of terrorism, which should be loudly condemned by all. May Ari's memory be a blessing, and a source of comfort to his family and community."
You may also be interested in...