Amid EU and Iranian Responses Over Renewed Sanctions, US Strikes Back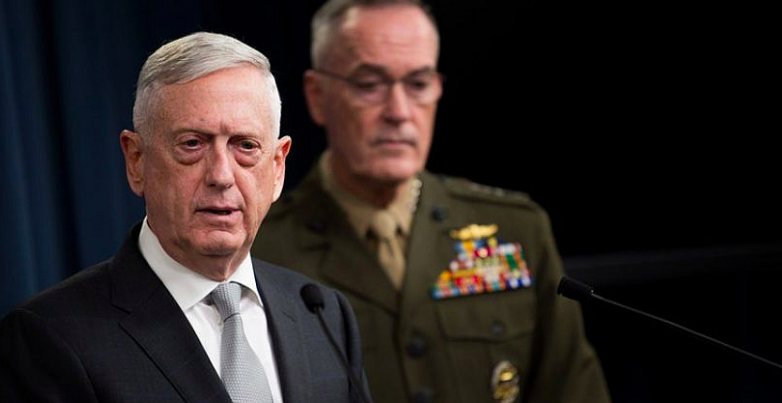 Pictured Above: U.S. Defense Secretary James Mattis and U.S. Marine Gen. Joseph F. Dunford Jr. brief reporters on the current American airstrikes on Syria during a joint press conference at the Pentagon on Apr. 13, 2018. Credit: Department of Defense Photo by U.S. Army Sgt. Amber I. Smith.
(JNS) With the European Union and Iran, which is behind a larger disinformation campaign than previously reported, recently pushing back against the United States reimposing sanctions on the regime earlier this month—lifted under the 2015 nuclear deal, which the U.S. withdrew from in May—the United States responded on Tuesday to actions that seek to undermine American steps against the Islamic Republic.
The European Union has been assisting Iran in circumventing U.S. sanctions. Last week, E.U. High Representative Federica Mogherini announced a $58 million package for the regime.
Iran and Syria also agreed on Monday to rebuild the latter's military.
"Iran has been put on notice at the continued mischief they've caused around the area. The murder they have caused from Syria and what they're doing with [Syrian President Bashar] Assad," U.S. Secretary of Defense James Mattis said on Tuesday. "The threats about the Straits of Hormuz, the support to the Houthis that are being fired into Saudi Arabia or the Iranian-supplied UAVs that are being flown again to international airports. This is not tolerated by us, and they're going to be held to account for it."
Moreover, U.S. Treasury Secretary Steven Mnuchin and Israeli Finance Minister Moshe Kahlon agreed to create a joint team to enforce sanctions on Iran. This move comes as Iraq plans to send a delegation to Washington to seek exemptions on Iran sanctions.
"The sanctions on Iran contribute to removing a threat to Israel's security and to the security of the entire free world," said Kahlon.
Finally, the United States justified reimposing sanctions against Iran as legal and a national security matter that cannot be challenged by Iran at the International Court of Justice, which began hearings on Monday.
State Department legal adviser Jennifer Newstead urged judges at the United Nation's highest court to reject Iran's appeal regarding American sanctions that were slapped back on Aug. 6 against the world's leading state sponsor of terrorism.
"The United States does intend, lawfully and for good reason, to bring heavy pressure to bear on the Iranian leadership to change their ways," Newstead told the judges. "We do this in the interests of U.S. national security, as well as in pursuit of a more peaceful Middle East and a more peaceful world."
You may also be interested in...