Amid Rising Tensions, Israel Expels Turkish Diplomat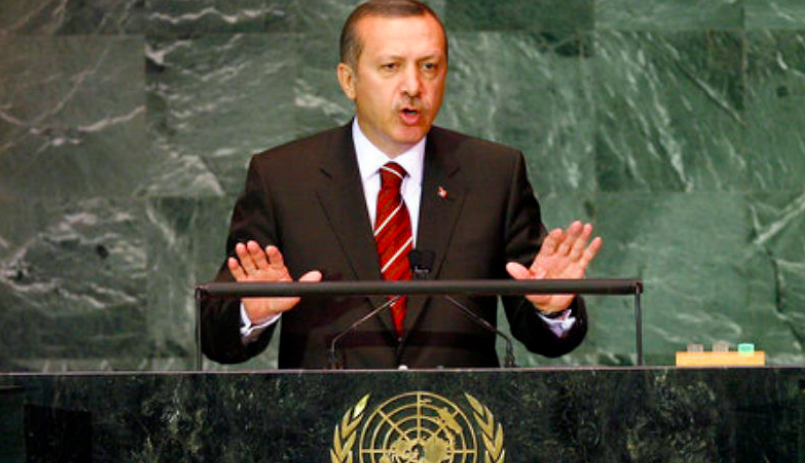 Pictured Above: Turkish President Recep Tayyip Erdoğan addresses the U.N. General Assembly in September 2009. Credit: U.N. Photo/Marco Castro.
(JNS) Israel summoned the Turkish Consul General in Jerusalem and expelled him from the country, following Turkey's expulsion of the Israeli consul general from Ankara.
The diplomatic incident continues increasing tensions between Turkey and Israel, which escalated following Turkey's outrage over Israel's defensive efforts to repel thousands of Hamas-led attackers on the Gaza security fence on Monday, which resulted in as many as 60 deaths and approximately 2,000 injuries.
Turkey also summoned Israel's consul general in Istanbul and demanded that he leave the country until further notice.
A war of words has escalated between Turkish President Recep Tayyip Erdoğan and Israeli Prime Minister Benjamin Netanyahu in the last two days.
Erdoğan fired the opening salvo, calling Israel "a terror state" with an "ugly visage" that "carries out genocide in Gaza."
Netanyahu responded that Erdoğan "is among Hamas's biggest supporters," and as such "understands terrorism and slaughter."
Erdoğan responded that "Netanyahu is the PM of an apartheid state that has occupied a defenseless people's lands for 60-plus years in violation of U.N. resolutions" and "has the blood of Palestinians on his hands."
"Want a lesson in humanity?" Erdoğan added. "Read the Ten Commandments."
Netanyahu then replied: "A man who sends thousands of Turkish soldiers to occupy northern Cyprus and invades Syria will not preach to us when we defend ourselves from an attempted invasion by Hamas. A man whose hands are stained with the blood of countless Kurdish citizens in Turkey and Syria is the last one to preach to us about combat ethics."
Ankara also recalled its ambassadors from the United States "for consultations" and called an emergency meeting of the Organization of Islamic Cooperation.
Turkish opposition parties on Tuesday called for the annulment of the reconciliation agreement between Israel and Turkey.
You may also be interested in...