Arab Knesset Members Meet with Arab League to Discuss Law Defining Israel as Jewish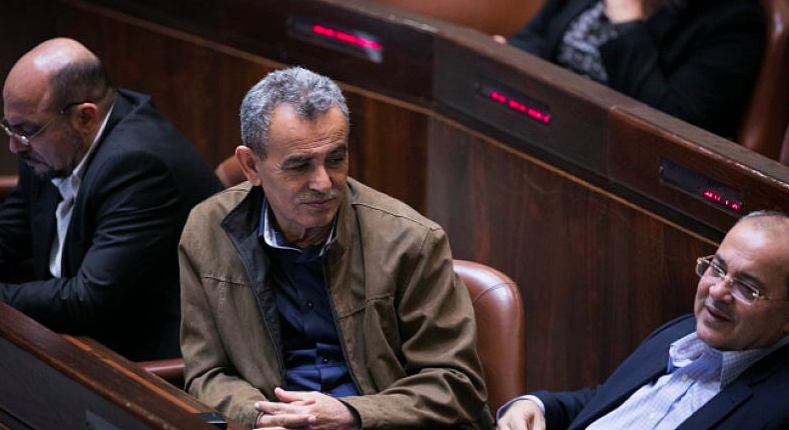 Pictured Above: Joint Party Knesset members Jamal Zahalka (center) and Ahmad Tibi (right) attend a plenum session in the assembly hall of the Israeli parliament on Dec. 5, 2016. Photo by Yonatan Sindel/Flash90.
(JNS) The head of the Arab League hosted a delegation of Arab Knesset members from the Joint List party on Tuesday, who railed against a new Israeli nation-state law that defines Israel as a Jewish state.
The delegation was met by foreign ministers of other Arab countries who gathered to discuss funding for UNRWA, a U.N.-funded organization established to provide aid to refugees from Israel's 1948 War of Independence, but has adopted a mission to focus internationally funded services and resources of all kinds on the entire Arab population in Israel.
Amid talks, the group called the new Israeli law "racist." Knesset members Ahmed Tibi and Jamal Zahalka reported that Arab League Secretary-General Ahmed Aboul Gheit called it an "apartheid law."
"We came here to explain the implications of this law to the Arab public and the national conflict, as part of our global propaganda campaign," Hadashot news reported the MKs as saying. The news source reported that the MKs said the law "destroys the possibility of two states."
Tibi railed against the recent closing of the PLO mission in Washington as "a revenge campaign against the Palestinian people and its leadership."
He accused U.S. President Donald Trump of being an "unskilled trader" who "causes the U.S. to lose its standing as a broker in the diplomatic process, and it makes do with the messianic ceremonies of Ambassador [David] Friedman and the right-wing tweets of [Jason] Greenblatt."
Just law week, Joint List chairman Ayman Odeh met with European Council foreign-policy chief Federica Mogherini to request that the European Union condemn and call for the nullification of the nation-state law.
Opponents of the law have made an effort to frame the law as providing rights only to Jews, making minorities second-class citizens. Proponents have argued that Israel was established as and always identified as a Jewish state and that the law will not withhold any rights to minorities which they currently enjoy.
You may also be interested in...