Arson 'Kite' Victims in Israel to Get Compensation from Funds Used for PA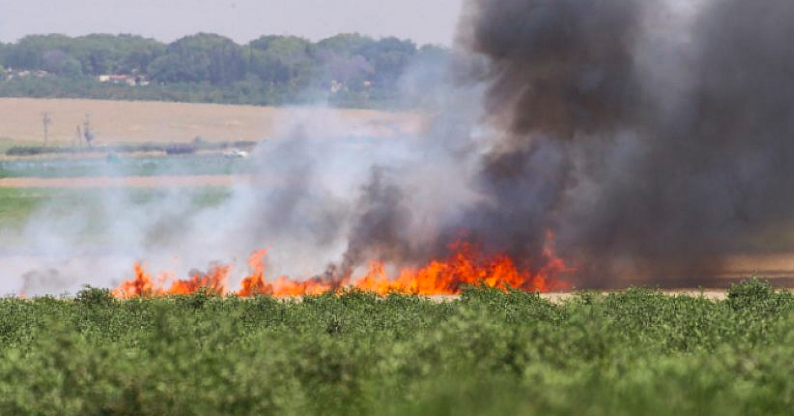 Pictured Above: Smoke rises from Israeli agricultural fields near the Israeli border with the Gaza Strip, after being set on fire by a flaming kite flown over by Palestinians as they protest by the border fence on May 14, 2018. Photo by Flash90.
(JNS) Israeli farmers whose crops have been destroyed by massive fires set by "terror kite" arsonists from Gaza will be compensated with funds withheld from the Palestinian Authority, as per a directive issued by Israeli Prime Minister Benjamin Netanyahu on Sunday.
Israel transfers tens of millions of dollars to the P.A. monthly, in customs duties on products headed for Palestinian-controlled territories which are imported through Israeli ports. The prime minister instructed the National Security Council to withhold payments as to offset the cost to communities living on the border that have suffered damage to tens of thousands of acres of fields in the past month-and-a-half, as well as the loss of one-third of the Carmia Nature Reserve.
Netanyahu ordered the compensation plan as firefighters worked alongside local residents to battle blazes in the fields surrounding Kibbutz Nir Am, Kibbutz Or Haner and Kibbutz Be'eri.
Hundreds of flaming kites fitted with incendiaries have been flown into Israel in the past six weeks with the intent of causing harm and damage to local Israeli communities. A new drone system has been able to intercept just 500 of them. Damages to agriculture since March are estimated at $1.4 million.
A newly proposed Knesset bill would similarly offset funds from the P.A. that are then paid out in a sophisticated payment scheme to terrorists currently sitting in Israeli jails, as well as to the families of terrorists killed in the act of attempted murder. Israeli officials argue that the terror payment scheme provides financial incentives that directly lead to the murder of Israelis.
You may also be interested in...