Australian Prime Minister Blames Hamas for Deaths Along Gaza Border Fence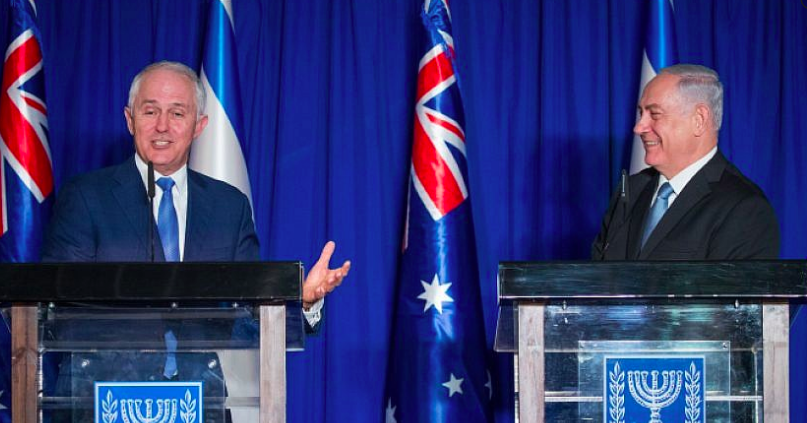 Pictured Above: Australian Prime Minister Malcolm Turnbull (left) and Israeli Prime Minister Benjamin Netanyahu during a joint press conference at the Prime Minister's Office in Jerusalem, on Oct. 30, 2017. Photo by Yonatan Sindel/Flash90.
(JNS) Australian Prime Minister Malcolm Turnbull slammed the Hamas terror organization on Tuesday as "confrontational," condemning the entity for the deaths of 58 Palestinians who took part in Hamas-led attacks on the security fence with Israel on Monday.
Turnbull told Melbourne Radio 3AW that the deaths were "tragic," but that "Hamas's conduct is confrontational. They're seeking to provoke the Israeli Defense Forces."
He said that Hamas was "pushing people to the border. In that conflict zone, you're basically pushing people into circumstances where they are very likely to be shot at as Israel seeks to defend itself."
The attacks were coordinated to coincide with the U.S. embassy inauguration in Jerusalem, attended by officials and dignitaries from the United States, Israel and around the world.
Australian Foreign Minister Julie Bishop said Israel has a right to protect itself and called on Palestinians "to refrain from violence and attempting to enter into Israeli territory." He did also note that Israel should respond proportionately.
Following the incident on Monday, the United States blocked a U.N. Security Council statement that would have called for a U.N. probe of the violence, which read: "The Security Council expresses its outrage and sorrow at the killing of Palestinian civilians exercising their right to peaceful protest. The Security Council calls for an independent and transparent investigation into these actions to ensure accountability."
The statement included no reference to any violence committed by Palestinians in the incident, which included rushing, climbing, cutting and trying to burn the fence, as well as the throwing of Molotov cocktails and rocks, live fire against IDF soldiers, the flying of incendiary kites and balloon bombs into Israel, and the burning of tires to create smoke screens for the planting of bombs along the fence.
You may also be interested in...