Barrage of Gaza Rockets Continue, with Beersheva Hit for First Time Since 2014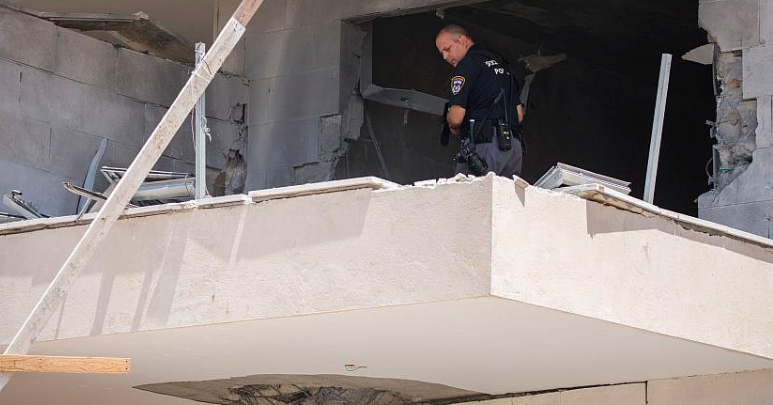 Pictured Above: An Israeli police officer examines where a mortar shell from Gaza hit a construction site in the southern Israeli city of Sderot, near the border with Gaza on Aug. 9, 2018. Photo by Yonatan Sindel/Flash90.
(JNS) The barrage of rockets from the Gaza Strip continued on Thursday, with Beersheva—the largest city in southern Israel—being targeted for the first time since "Operation Protective Edge" in 2014.
The mayor of Beersheva, Ruvik Danilovich, said that Israel must act more forcefully against these rocket attacks after his city of more than 205,000 people was targeted.
"No country would let the security of its citizens be harmed. It is legitimate for the country to conduct negotiations, but there must be red lines. It is likely that we'll need to take more drastic and aggressive action," Danilovich told Israel's KAN public broadcasting corporation on Thursday afternoon.
According to the IDF, approximately 180 rockets have been launched at Israel from Gaza since Wednesday. The Iron Dome missile-defense system has intercepted 30-plus launches, with the majority of the rockets falling in open areas.
In response, the IDF have hit more than 150 terror targets in the Gaza Strip. Among them were weapons-manufacturing and storage facilities, a complex used by Hamas's naval force, a military compound used for rocket-launching experiments and a meeting point used by senior commanders of Hamas's Khan Yunis Brigade.
Israel's Security Cabinet is expected to convene on Thursday night to discuss the situation. Israeli Prime Minister Benjamin Netanyahu will meet with Defense Minister Avigdor Lieberman, IDF Chief Lt. Gen. Gadi Eisenkot, Shin Bet Chief Nadav Argaman and head of the National Security Council Meir Ben Shabat.
You may also be interested in...