Celebrated Jerusalem Soccer Team Now Named for Trump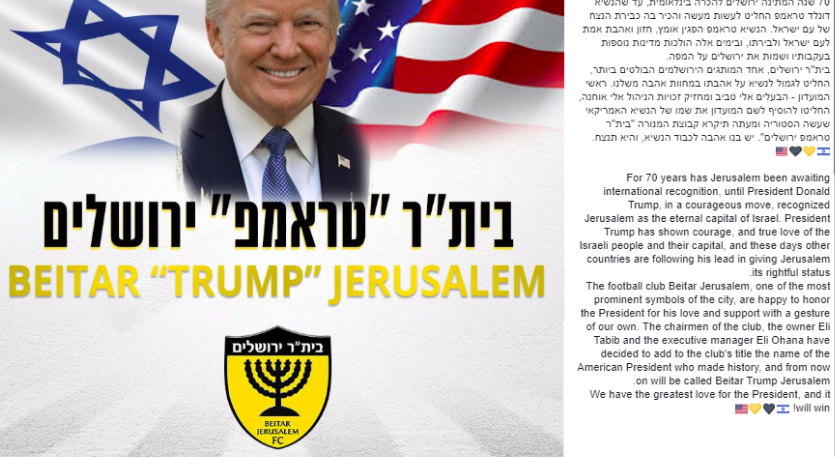 Pictured Above: Post by Beitar Jerusalem soccer team, announcing its name change to "Beitar Trump Jerusalem." Source: screenshot.
(JNS) Loyal Jerusalem soccer fans were greeted with news on Sunday that their beloved Beitar Jerusalem soccer club would be changing its name in honor of the American leader who was the first to recognize Jerusalem as the official capital of the State of Israel.
The team, whose yellow-and-black colors feature a traditional Jewish menorah in its logo, took to Facebook to thank U.S. President Donald Trump for recognizing Jerusalem and moving the American embassy from Tel Aviv to the capital.
"Beitar Jerusalem, one of the most prominent symbols of the city, are happy to honor the president for his love and support with a gesture of our own," the Facebook post stated in English and Hebrew. "The chairmen of the club, the owner Eli Tabib and the executive manager Eli Ohana, have decided to add to the club's title the name of the American president who made history, and from now on will be called 'Beitar Trump Jerusalem.' "
The announcement came on the eve of the official opening of the new U.S. embassy in Jerusalem's Arnona neighborhood, which will be attended by U.S. Deputy Secretary of State John J. Sullivan, Secretary of Treasury Steven Mnuchin, senior adviser to the president Jared Kushner, Trump's daughter Ivanka, and Special Representative for International Negotiations Jason Greenblatt, as well as ambassadors, dignitaries and officials from Israel and around the world.
"For 70 years, Jerusalem has been awaiting international recognition, until President Donald Trump, in a courageous move, recognized Jerusalem as the eternal capital of Israel," the club wrote in the post. "President Trump has shown courage, and true love of the Israeli people and their capital, and these days other countries are following his lead in giving Jerusalem its rightful status."
Beitar is currently in second place in Israel's premier league and is known for its staunchly pro-Israel fans.
You may also be interested in...