Community Business Highlight: Frieda's Media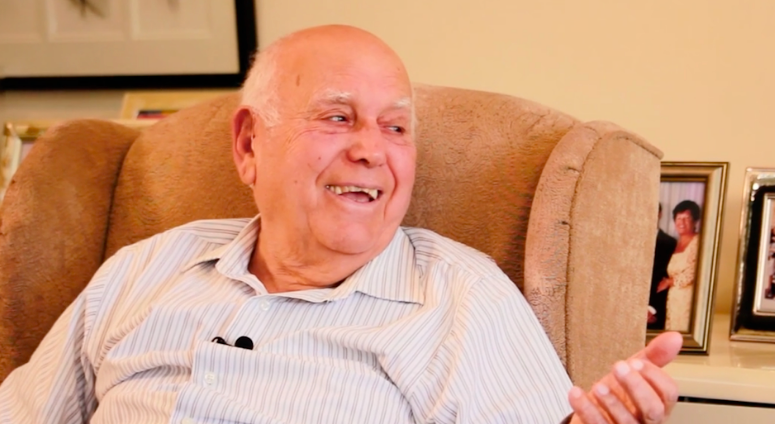 Pictured Above: A subject being interviewed in one of Frieda's documentaries.
In today's day and age, media is an important aspect of life. All around us almost on a 24/7 basis, there are images and videos playing everywhere we look. Not many people realize how much work really goes into creating videos and films. Theres production, directing, and arguably most importantly, editing.
Frieda Sitt Laniado always enjoyed making slideshows and putting clips and images together to make complete videos. Although she is mainly self taught, Laniado attended the Fashion InstituteTechnology and took a few elective film classes to learn how to use video editing programs. In 2010 she started her film company called Frieda's Media. Since then, she's filmed and edited a variety of different films for clients who contact her.
A special option people would typically call Frieda for is a birthday or anniversary video. Families come to Frieda wanting to gift their friends and loved ones a special video for their birthday. First she'd learn about the person including their likes, quirks, and overall personality. She would then come up with unique and creative questions to ask about the person and begin interviewing friends and family. Next, Frieda would have them give pictures and home videos of their loved one to her. Once she has all she needs, Frieda will basically make a mini-documentary about the person. This is a timeless gift that can also double as entertainment at a birthday party!
The most recent project Frieda has been working on is legacy videos for individual families in our community. She hopes to preserve the tails of struggle and triumph of the generation that built our community from the ground up. Most of our parents or grandparents have a tale to tell of their immigration, business trials, or overcoming adversities. Laniado can interview parents and other family members and collect images and videos to make a legacy film that your family will cherish for generations.
Frieda is very passionate about this subject and is motivated to try and get as many families on board as she can. She understands most grandparents immigrated here within the past one hundred years and are dying out before their stories can be properly documented. If this is something that sounds appealing to you, contact her as soon as possible to get started.
One colorful and fun collaboration Frieda was recently a part of was with the talented artist Elizabeth Sutton. Frieda contacted her and Elizabeth was super receptive and kind. Frieda found this famed artist to be very eager to help out a fellow woman in the business world. Laniado's idea was to film a day in the life of a successful artist, so Elizabeth invited her to film her for a day.
"Elizabeth was great. She was so responsive and she gave me creative freedom to do whatever I wanted," said Frieda about the collaboration. "She's all about supporting other women in business, she's not just talk, she follows through. Elizabeth shared my video and really got the word out about my business."
Frieda also creates lively and fun-to-watch Bar Mitzvah videos. When you hire Frieda to make your Bar or Bat Mitzvah video, what you'll get is a fast-paced, fun, creative, and energetic film that's sure to be the hit of the party. She doesn't just collect pictures for a slideshow. She'll also film the Bar Mitzvah boy doing his favorite things, or playing with his siblings and piece it together into a video thats timed to great music.
Weddings, proposals, business promotions, event recaps, and more are all offered by Frieda's Media. Her special editing touch is what makes a seemingly simple concept turn out to be a unique and original product.
When couples don't hire a videographer for their weddings, a great option is to call Frieda. Although she is not yet set up to film complete weddings, what she does do is very special. Laniado comes to the home of the bride and films her getting ready for her wedding. Then Frieda will film the precise moment when a groom sees his bride all dressed up for the first time. What makes the video extra special is that she records the bride and groom separately talking about each other and how they are so excited to get married.The result is always beautiful and a couple can cherish it as a piece of their wedding memories for life.
The Morris I Franco Cancer Center is a very important asset to our community. They do tons of good deeds for the cancer-stricken members of our community such as getting the top doctors, coming to doctor visits, providing support groups, arts and crafts classes, parties, and everything in between. When a cancer patient enters the building they feel safe, loved, and most importantly normal. This is why whenever they have a party or event and call Frieda to film it, she volunteers her service without question each time. These films are so important because they highlight the good and positive things that are being done for many community members who are going through the hardest of times.
Follow Frieda on Instagram @friedasmedia to watch full videos Frieda has produced click here.
You may also be interested in...