Community Business Highlight: Junk Free Beauty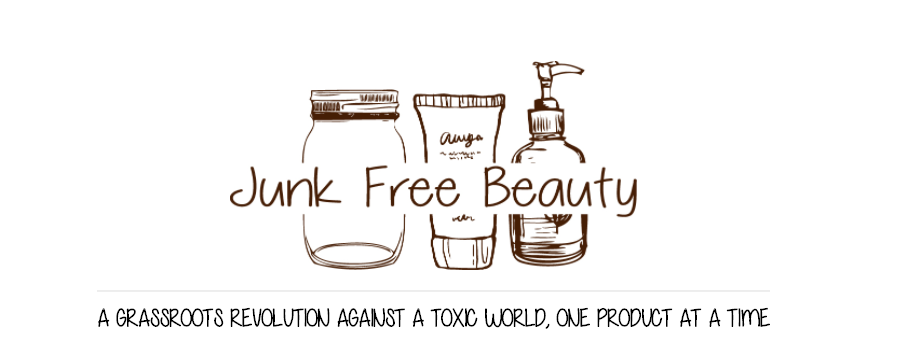 In today's day and age, the majority of people on this planet put so much emphasis on making sure they know every ingredient in every food they put into their bodies. We question whether or not foods have unnatural ingredients that will harm our bodies on a daily basis. What many people don't know, however, is that they should be putting that same emphasis on what they put on their skin as well.
The skin is the largest organ in a human being's body. It absorbs whatever we put on it into the bloodstream within seconds which is then circulated throughout our entire bodies. These facts alone explains why one should truly take a second look at what is in their skin care and beauty products before they make it a part of their daily routine.
Keeping these facts in mind, it would mean that one should go through their makeup desks right now and start reading every label of every product they own with a trash can handy. This subject may seem a bit overwhelming and even intimidating, but that doesn't make it any less important.
A Zinc cream sold by Junk Free Beauty.
Lucky for us, there is now a store we can visit that has all the answers. Junk Free Beauty is a new up and coming community business that focuses on supplying junk free products without the hassle.
Doris Cohen along with her mother Rachel Dweck and sisters Gloria Molcho and Chloe Dweck Chera founded Junk Free Beauty in September 2016 and opened for business in November that same year. Doris found herself frustrated with the general skin care market having almost no regulation on the products that millions of americans use every day.
A client's shelf filled with Junk Free Beauty products.
In the United States, a mere 11 ingredients are banned from skin care products compared to the whopping 13,000 ingredients that are banned in Europe. Junk Free Beauty thrives because it understands that crazy discrepancy and wants to help fix it.
the drug store beauty products business is profit driven, while Junk Free Beauty is passion driven. The family owned business truly puts an emphasis on educating their customers about their better-for-you products. They know that in the experience of purchasing beauty products, trying is believing which is why they give samples and encourage customers to try out each and every item they are interested in before purchasing.
A non-toxic lipstick sold by Junk Free Beauty.
Junk Free Beauty is located within Rachel Dweck's basement at 1807 East 4th Street in Brooklyn. In the Summer months as community members make the seasonal move to Jersey, their business gets temporarily relocated to Main Street in Allenhurst, NJ.
Doris believes having a brick and mortar location is key since most of her green beauty competition sells primarily online. With Junk Free Beauty, you get to walk in and as unique questions to people who have the answers while also being able to sample their products.
A Junk Free Beauty booth set up at a community boutique show.
Non-toxic beauty is not so mainstream and there's a pretty practical reason for this. Large corporations that make up the American skin care industry produce harmful products and label them as wholesome because that is what's most cost effective. If they can get away with cheap chemical-ridden products because they aren't being regulated by the FDA or any other higher power, they see no reason to stop.
But what's so bad about these hair and skin products we can pick up in any drugstore or supermarket? The answer to this question could be endless, but the basic answer is that the chemicals we are ultimately taking into our bloodstream can have various adverse effects on the body. These effects range from hormonal imbalance, causing issues with fertility, to even messing with your brain which in some cases resulting in Alzheimer's disease.
Junk Free Beauty has an array of products to help limit the amount of harmful toxins we are taking in on a daily basis. From skin care for woman, men, and teens, to newborn baby and toddler products, a full makeup bar, men's beard care products, hair care, clean household products and more, you can reevaluate your whole routine or make one simple change that can make all the difference.
An array of non-toxic products sold by Junk Free Beauty.
People tend not to realize the amount of products they use throughout the day. The bare minimum amount of products a woman uses on average is about six items, not counting makeup or hair styling products. Friendly and informative employees at Junk Free Beauty are happy to answer all your questions and concerns about how to get yourself and your family on track to a cleaner, greener lifestyle.
"Every product purchased from Junk Free Beauty is more than just a product. With each clean product you switch into your routine, you are taking steps to alleviate some of the environmental toxins that you've been putting on you and your children's bodies," said founder Doris Cohen.
Passion is their main driving source, Doris emphasizes the importance and simplicity of making these positive changes. Sophia Molcho, an employee and proud self acclaimed junk free beauty
"To me, Junk Free Beauty isn't about having good skin, it a lifestyle," said Sophia Molcho, an employee and proud self acclaimed junk free beauty. "It's about learning how to treat ourselves in the best possible way by means of what we put both on and in our bodies."
Want to start out small and see how you can take a step in the right direction? Doris recommends coming in and starting out with Castile soap. This is a clean soap that Junk Free Beauty sells that you can buy to replace countless toxic products in your home. It could be used in your kitchen or bathroom as hand soap, for body scrub, and even shampoo. Castile soap is even safe for use on infants.
For more information on this Junk Free movement head their blog or check them out on Instagram @junkfreebeauty or on Facebook.
Frieda Schweky is Sephardic.Org's official community events reporter. For inquiries and to get involved with our site, please contact Frieda via email.
You may also be interested in...