Community Business Highlight: Queen of Cards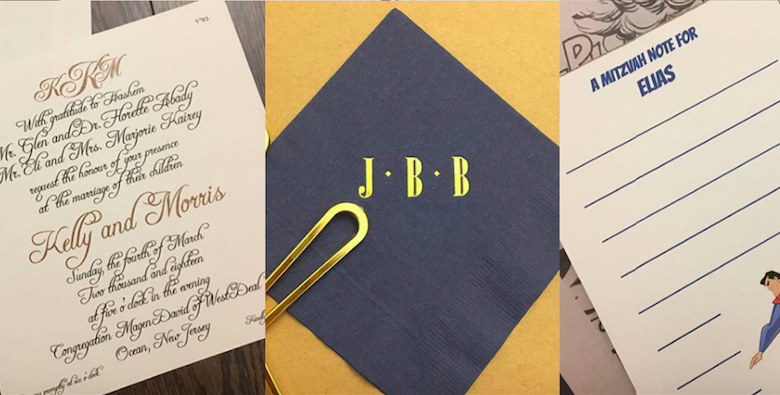 In today's day and age, it's always awesome to take advantage of the capabilities we have to customize anything and everything. Graphic design is a huge new-age development and people can utilize graphics for things like invitations, gifts, and much more.
Ninette Ash is the brains behind Queen of Cards LLC. In 2011 Ninette started selling customized thank you cards and invitations out of her house. When Ninette got married, she and her husband embarked on a lifestyle that was very different from the life she was accustomed to.
Instead of going to work every day like her father would have, Ninette's husband went to learn Torah in Kollel. Kollel living is a beautiful simple way of life. Although Ninette was proud of it, she realized she had a lot of alone time on her hands because her husband was out learning. Ash knew she should do something to pitch in, and just around that time her sister-in-law was losing interest in her invitation business. That was when they decided Ninette should take it over. She started small but was driven to make it something bigger of the business.
From the very beginning, Ninette's goal was to make her service affordable and, most of all, convenient. She offers free delivery and her prices have only gone down from inception. With the support of her husband and family, Ninette was able to figure it all out on her own. It wasn't simple and she had nowhere to turn when she had specific questions pertaining to her small business. Nonetheless, Ash was determined to prevail and at this point has a great understanding of her business.
Starting with just personalized thank you notes and invitations, Ninette has increased her product line tenfold. Customized napkins, wedding invitations, place cards, menu cards, and various labels, are just a few examples of her expansion. The Queen of Cards is flexible and always opened to new ideas which makes the options truly endless!
When it comes to customization, there is so many options. Here are a few examples of some great customized products that Queen of Cards can produce for you.
1. Hostess Gifts
Birkonim customized with initials and placed in a lucite holder is a stunning gift that any hostess would love! The Birkonim can be designed to match the hostess's dining room.
Another stunning option by Queen of Cards is a glassware line in which you can customize. A customized ice bucket or wine cradle makes for the perfect personalized gift!
2. Dinner Parties
Make your table one to remember at any party or occasion. There are so many options on how to customize your table-scape with Queen of cards.
Design name cards to seat your guests and have custom menus near their place settings as well to let them know what you'll be serving. Small printed napkin wraps with your initials can bring your theme full circle!
You could also design customized paper or linen napkins to make it truly special.
3. Birthday Parties
Got a great birthday party theme? Take it to the next level with custom-themed water bottle labels that include your character or color scheme and the birthday person's name on it!
Cocktail napkins and party bags can also be customized to match your theme. Doing buffet style? Order custom food labels to bring the theme and table together.
4. Child Motivation
Nothing motivates a child quite like a Mitzvah note or reward chart. You can order cute Mitzvah notes for your child with their favorite characters and their name printed brightly on top!
Children are always so eager and proud to present their teachers and friends with these colorful notes showing off their good deeds. Custom Mitzvah notes also make a great inexpensive birthday present!
Another way to get your kids on track is to customize and personalize motivational laminated charts and schedules so they never forget to brush their teeth or do Netilah! You could offer prizes when a chart is filled up or a schedule is followed flawlessly a few days in a row.
5. Invitations and Thank You Cards
Let's not forget the Queen of Cards first area of expertise! Invite your guests in style with a one of a kind and detailed invitation from Queen of Cards.
Also, never forget to thank your guests with stunning small cards that you'll be as excited to send out as they will be delighted to receive in the mail!
For more inspiration on Queen of Cards, follow the Queen of Cards on Instagram @ninetteash or contact her at 917-470-5227.
Frieda Schweky is Sephardic.Org's official community events reporter. For inquiries and to get involved with our site, please contact Frieda via email.
You may also be interested in...