Community Businessmen Thrive in Guangzhou China, Financially and Spiritually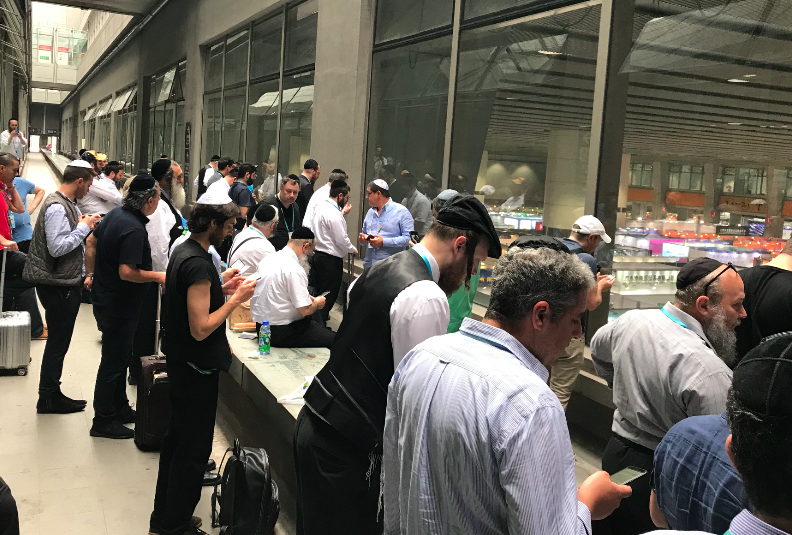 Pictured Above: Over 100 men praying Minha at the Canton fair.
Twice a year, a major import and export trade show known to many as the Canton Fair is held in Guangzhou, China. In the Fall and Spring seasons, hundreds of businessmen and women flock to this foreign city for the countless business opportunities this fair has to offer.
China, located in the eastern region of Asia, is by no means a Kosher-friendly destination. Thanks to the Chabad of Guangzhou, however, community members have a warm and inviting place to eat, pray, and even celebrate holidays together while away on business. Chabad has a foothold in a few locations in China, but the Guangzhou location in the Westin Hotel is by far the most popular due to its proximity to the Canton Fair. It is located within walking distance from the fair and since it's located in a hotel, it's a no-brainer for observant orthodox Jews to visit.
Community members praying Minha together in a Minyan at the Canton Fair.
This year, the fair was held from April 15 through May 5. Chabad of Guangzhou was booming with hundreds of Jews from around the world in search of warm Kosher food and Minyans around the clock. Jewish exhibitors and attendees at the fair were welcomed to join Chabad on-site at Canton for Mincha and sandwiches every day.
"We try to assist every Jew who comes to us so they can get the full Jewish experience in China," said Rabbi Eliyahi, the Chabad representative at Chabad Guangzhou, China. "We try to help everyone and, thank God, we are happy with what we accomplish each year."
Community members praying in the Shul at the Chabad of Guangzhou.
"It's an amazing feeling seeing Jews from all over the world coming together to pray and having a place for Kosher meals," expressed Joey Missry, a participant in the Canton Fair who has been utilizing Chabad's services in Guangzhou for the past 10 years.
"The food is always great," said Danny Sabzehroo, community member, and frequent Canton Fair attendee. "Chabad serves omelets, cheeses, and fruit for breakfast, sandwiches for lunch, and always a big spread at dinner. If you have to stay in China over Shabbat, it's not the worst place to be either." Remarked Danny.
Community members enjoying warm Kosher meals provided by the Chabad of Guangzhou.
Since many of our community members' businesses involve imports and exports, it's common to run into a lot of friendly faces at Chabad. Each community member who attends the fair in Guangzhou truly appreciates the feeling of community and home in such a foreign place. Most individuals not only pay for meals but donate a great deal of money to this important institution.
"Chabad makes everyone from every walk of life feel welcome no matter what," said young businessman and community member Jack Terzy. "Their Friday night dinners bring Jews together from around the world for a good meal and great conversation."
To learn more about the Chabad in Guangzhou and to donate to this worthy organization, click here.
Frieda Schweky is Sephardic.Org's official community events reporter. For inquiries and to get involved with our site, please contact Frieda via email.
You may also be interested in...