Community Fundraiser Raises $6,000 for Go Sephardic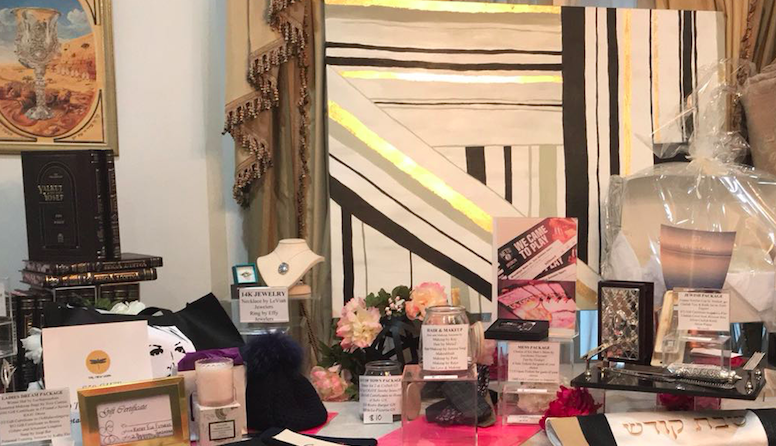 On Feb. 4 through Feb. 5, a bake sale and Chinese auction took place in the home of Milene and Avi Nahum to raise money for the Go Sephardic organization.
After the New York branch of Go Sephardic held their monthly meeting, it was decided to put together a fundraiser event for the organization. The board of the New York branch consists of community members from both the Syrian community in Brooklyn, NY and the Persian community in Great Neck, NY.
Each Go Sephardic event is typically planned with its own meaningful purpose to impart spirituality on all who attend. The board wanted to keep this theme of inspiring people and doing mitzvot throughout this fundraiser. Ultimately, the board decided to organize a Chinese auction in which they would have inspiring speakers address the crowd and sell Mishloach Manot for the upcoming holiday of Purim as well.
One of the displays at the Chinese auction.
The Chinese auction and bake sale took about a month and a half to organize and was very successful. An impressive $6,000 was raised for Go Sephardic in just two days.
Go Sephardic is a non-profit organization whose goal is to unite and inspire young Sephardic Jews. In doing this, they show the beauty of Torah and how to make a difference in various Sephardic communities. They accomplish this through multiple programs and trips organized in several Sephardic communities around the world.
The Food Lovers Package at the fundraiser event.
The Chinese auction had a wide variety of packages. Ladies, mens, Judaica, Yachout Yosef, food lovers, home, hair and makeup, dining out, costume jewelry, real jewelry and photography packages were all on display throughout the event. Go Sephardic is grateful to all the vendors who donated their goods and services to make the fundraiser such a success.
The first speaker was Jacklyn Gabbay of @TheModestGirl. Jacklyn discussed her life story and how her various struggles made her stronger. Mrs. Gabbay acknowledges that all her challenges are from Hashem and ultimately they helped her become the spiritual person she is today. Some examples Gabbay gave of her challenges were being bullied by her peers due to false rumors when she was young and deciding to cover her hair once she got married. She inspired the crowded through the tale of her experiences. Gabbay demonstrated that if you keep Hashem in your heart, you can accomplish all of your goals. The organizers of the auction felt Jacklyn's lecture really hit home with all of the attendees.
The jewelry package on display at the event.
Rabbi Yosef Palacci spoke at night and attracted a large crowd of about 60 to 70 people. The rabbi discussed the qualities which make the Jewish nation the chosen nation. He also discussed the special things we do to make ourselves holy. This lecture kept to the theme of growth and empowerment to help further project Go Sephardic's message.
Raquel Nahum who welcomed the event into her parent's home discussed why she chose to hold this auction for Go Sephardic.
Mishloach Manot for sale at the event.
"Go Sephardic changed my life. It's an organization that tries to put meaning into people's lives," said Nahum. "Its not a simple thing to describe, the feeling and the support system you get out of being apart of Go Sephardic, but its real and it's powerful."
Nahum recently attended a Go Sephardic Israel trip, Shabbaton, and various other Go Sephardic events. Today she's a proud board member of the Go Sephardic New York branch.
Treats for sale at the event.
At the event, Salads by JUS by Julie were sold for lunch. Various Mishloach Manot were sold for Purim as well as baked goods from Nahum Bakery, Kaak from Sally Mishon, Cheese from Grandma's Cheese and more.
"It was 100% a successful fundraiser," said Raquel of the event turn out. "As stressful as it was at times to coordinate, it was so meaningful when I saw it all come together. I knew that Hashem was helping us along the way for sure."
To learn more about Go Sephardic or to donate and get involved, head to GoSephardic.com.
Frieda Schweky is Sephardic.Org's official community events reporter. For inquiries and to get involved with our site, please contact Frieda via email.
You may also be interested in...