Community Hesed Spotlight: Thanksgiving Back with the Special Children's Center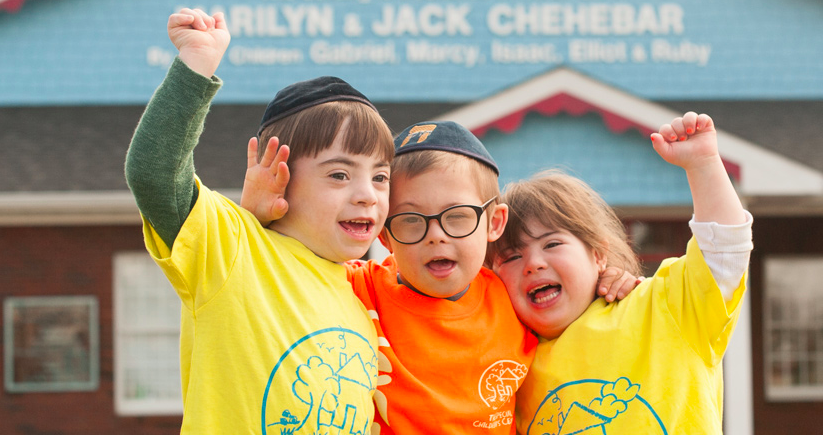 The holiday of Thanksgiving can mean many different things to many different people. As a Jewish community who immigrated to America, Thanksgiving is a national holiday most of our community seems to have accepted into the fold. We as a people like to focus on family togetherness so Thanksgiving is a great opportunity for all of us to sit together and enjoy each other's company and focus on the things that we are thankful for in life.
The harsh reality, however, is that Thanksgiving became less of a holiday focused on giving thanks and more about self indulgence. Many people eat until they are as stuffed as the turkeys on their tables are and almost immediately jump to shop the crazy Black Friday specials to save as much money as they can.
With all of the Thanksgiving chaos going on, it can be hard to focus on what's really important in life. That being said, there is an extremely dedicated group of community members who make sure they give back on Thanksgiving each year despite all of those distractions.
The staff at the Special Children's Center spending time with the children at their Sunday program.
Every year on Thanksgiving, the Special Children's Center holds an event for families with special needs children in order to assist parents with their children on a day when there is no school. Volunteers of all ages flock to the center's various locations to lend a hand in this selfless and amazing task.
The Special Children's Center, also known as the Center, is a non-profit organization that is located in Lakewood NJ and Brooklyn NY. The Center got its start in 1996 when its founders, two passionate teenagers Jenine Shwekey and Chaya Bender, began volunteering their time to provide care for families who have children with developmental disabilities.
A volunteer and a child at the Special Children's Center during their weekend programming.
The Center is focused on a multi-faceted service program for children and adults with complex developmental disabilities. Their main focus is on after school programs as well as programs held on Sundays and any other times schools give days off to their students. The Center happily serves over 450 families with special needs children and adults.
On Thanksgiving day, the Center hosted all children and adults with special needs who attended the program and took them on special trips between 10 AM and 5:30 PM. Fun activities throughout the day included gymnastics at Aviator for the girls who attended and a trip to Manhattan's Roosevelt Island for the boys who attended.
Volunteer, Yitz Henkin, singing and celebrating with children at the Special Children's Center's Thanksgiving program this year.
The day after Thanksgiving, the Center traditionally provides unique programming in which they receive helpful volunteers to make it special for all who attend. Some of the older children went on a trip for bowling and bagels while others stayed behind at the center for an annual treat.
Terry Nigri and her children volunteer with the Special Children's Center on Thanksgiving every year.
"We bake gluten free muffins and bring them for the special needs children to decorate them and we sing and dance with them too," said Nigri of her meaningful experience with the Center, "It's become a tradition we hope to keep up. Our children get so much out of it and they love going there because they bond with the kids and can't wait to see them again."
A group of volunteers and children at this year's Thanksgiving program at the Center.
"I'm hoping by putting them in these situations that are often uncomfortable for children that they will grow more tolerant and compassionate," explained Nigri of why she does what she does, "The Special Children's Center can always use the help of volunteers and donations. We are always so proud when we go there and see young girls from our local high schools choosing to spend their free time there."
Casey Rothschild also brings her children to the Center each year on Thanksgiving for this beautiful day of fun and hesed.
"Every time I go there and see big smiles on the kids' faces, I love to know I'm helping to make others happy. This year I want to go back to The Center on Chanukah as well," exclaimed ten year old Norma Rothschild.
"I love how happy the kids are when I'm with them and it's great how much I can help them. Black Friday is usually about shopping, but I look forward to spending time with the kids at the Special Children's Center every year instead," said Rothchild's oldest child, 13 year old Solomon Rothschild.
Thanksgiving with the Special Children's Center is known to be a truly inspiring and enriching day for all who participate and volunteer their time to those in need. The Center along with their dedicated volunteers plan on continuing this beautiful Thanksgiving tradition in the years to come.
For more information about the Special Children's Center, or to donate to this special cause, head to their website.
Frieda Schweky is Sephardic.Org's official community events reporter. For inquiries and to get involved with our site, please contact Frieda via email.
You may also be interested in...