DSN Bikur Holim Trip Touches the Hearts of Patients and Volunteers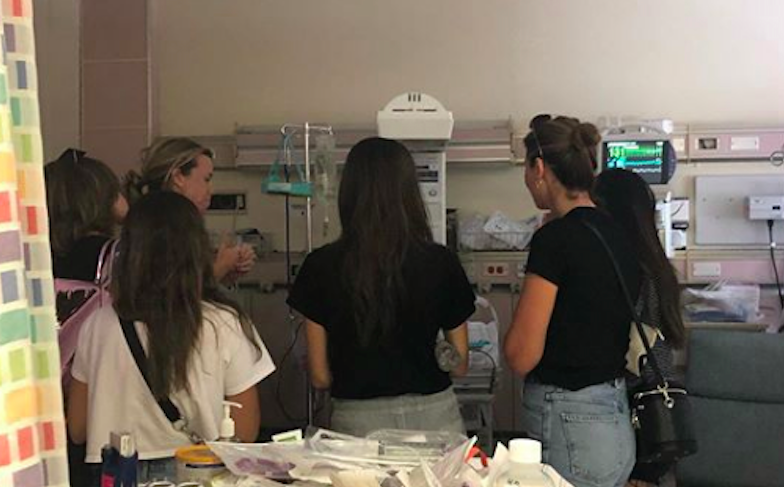 Pictured Above: Volunteers visiting sick patients at Monmouth Medical's Children's Center. Credit: DSN.
Being that our Summer days are so limited, one would assume that the women of our community would take advantage of their precious time in the first weeks of Summer to soak up the sun and relax. The reality, however, is that I was personally able to witness a group of selfless women using that precious time to do the most honorable Mitzvah: Bikur Holim, visiting the sick.
The DSN Community Center is well known for its exercise facility and amazing youth and adult programs, but one thing that should be noted about DSN is their devotion to Hesed. On July 1, Lauren Tobias, director of DSN's adult programs department, led a meaningful visit of caring community members to Monmouth Medical's Children's Center.
Originally, this Hesed trip was only supposed to include ten women, but because of an overflow of volunteers, a remarkable 15 women attended. Some volunteers were in their late twenties and others were old enough to be grandmothers. Everyone had brought small gifts with them including stuffed animals, card games, Silly Putty, and more. Meghan Shine, a child health specialist, acted as our guide and brought us to see the patients. For their privacy, Shine did not disclose their diagnoses.
Our first visit was to a two-week-old baby, swaddled almost entirely by his blanket as he slept. We left him a stuffed animal and moved on quickly, careful not to wake him. Next, we came to a sixteen-year-old girl whom we spoke with and gave gifts to. She was half-asleep herself, but she smiled when one of the women complimented her manicure. When we came to the third patient, a two-year-old boy, one of the older women in the group stayed behind to sit by his side and talk to him. She played with him and allowed him to choose his favorite toys among the ones we brought. The next two rooms passed by quickly, as they were isolation rooms and we were therefore not allowed to enter. The fourth room housed a pair of seven-week-old twins, and the last was another two-year-old boy. For these patients, we handed the toys to their parents and said a few words of comfort.
The visit lasted only an hour, from 2:30 to 3:30 in the afternoon, but that hour carried immeasurable weight. Slowly, the demeanor of the women in the group changed to something quiet and reflective. The impact was so deep that before we even stepped in the elevator to start leaving the hospital, Tobias was already arranging a future visit to the Valerie Clinic in Monmouth Medical that houses the children with more severe, terminal illnesses.
"It's amazing to do something that sticks with you for a long time, even if it only takes an hour," said 35-year-old Amy Betesh.
"This is my way of thanking God that I'm healthy," added Sarah Hanan, another volunteer. "We have to take advantage of the fact that we're healthy and give back to others."
In the elevator, I turned to talk to the woman who had lingered in the two-year-old boy's room, 70 years old community member, Lillie Ades.
"I work at SBH, and I know that people that are sick tend to be lonely," she explained. "If you were sick and alone, wouldn't you want someone to come into your room with gifts and talk? They need someone to be there for them, and I'm happy to be that someone."
The experience still remains in my mind today. As Hanan said, I am doubly grateful to Hashem for my own health, especially after visiting the hospital bed of a girl my age. Bikur Holim is an incredible Mitzvah and one that I hope to do more in the future. I'm already checking the DSN feeds for the trip to the Valerie Clinic in the future and I recommend that you do to.
Arlette is a talented writer currently working as Sephardic.Org's Summer events intern.
You may also be interested in...