DSN's Second Annual Disney Breakfast Event Strikes Success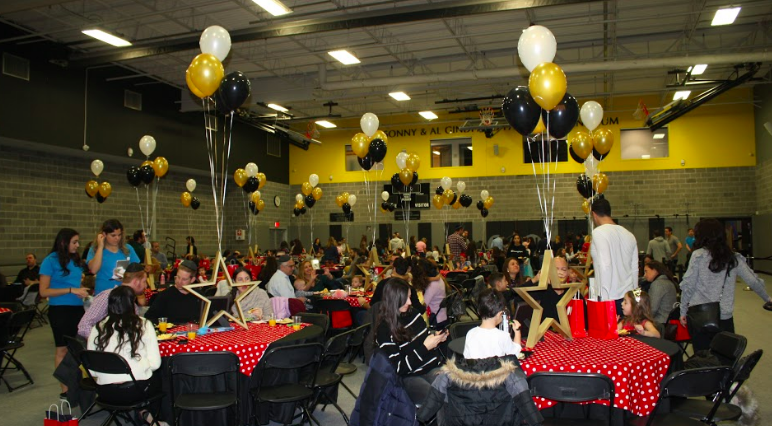 On Sunday, March 11, the DSN Community Center located in Oakhurst, NJ hosted their third annual Disney Breakfast. Actors in Disney character costumes wondered the large DSN facility all throughout the morning entertaining their young and eager fans. Princesses, super heroes, and even Mickey Mouse himself were there to put magical smiles on all the children's faces.
Spiderman putting on a show for the crowd at DSN's Disney Breakfast.
DSN chose to feature Marvel action characters this year in addition to the usual Disney princesses and Mickey Mouse gang. This year was also particularly special because DSN created a pre-event for the young girls that was run by appointment only. The girls' salon called Bibbidi Bobbidi Boutique catered to all of the young girls' beauty needs before the big breakfast.
All of the proceeds from the Disney Breakfast and Bibbidi Bobbidi Boutique went to benefit the DSN Children's Scholarship Fund. This is an amazing charity set up by DSN to try and help include community members who can't afford DSN membership. It assures that everyone can unite with the Shore area community for activities, programs, events, and more, regardless of their financial standing.
Children enjoying the pre-event tea party in costume.
The first annual Bibbidi Bobbidi Boutique was quite a success. The appointments gave girls a chance to glam up for the Disney breakfast. About 24 tickets were sold for half hour segments of making dreams come true. Attendees were encouraged to dress up as their favorite Disney Princesses. The young girls were pampered with special disney princess hairstyles and glittery makeup. They were then treated to a tea party in which they enjoyed finger sandwiches and tea with Cinderella.
The Disney-themed Chinese auction at the DSN Disney Breakfast.
The DSN Disney breakfast is a family event like no other. Complete with a large dairy spread, a Disney character show, and Disney-themed Chinese auction, all attendees were guaranteed an awesome time. Moms, Dads, and children of all ages flocked to DSN for this one of a kind event. The breakfast was catered by Nicole's Kitchen and included great breakfast foods for all who attended. Not only that, but there were some sweet themed treats like Mickey Mouse and Spiderman shaped waffles, Mickey Mouse cup cakes, and more.
Children watching the shows that were put on at the DSN Disney Breakfast event.
Families enjoyed songs, skits, and dances put on by their favorite disney characters. There was a hula performance which featured the two main characters from the movie Moana. Spiderman and Captain America gave an amazing performance as well, and there was a character parade with Mickey Mouse, Minnie Mouse, Donald Duck, Daisy and Goofy. The DSN Dance Academy competition team also performed for the crowd dressed as Minnie Mouse cheer leaders.
Face painting, photo booths with fun Disney backdrops, and gift bags were enjoyed by the 240 plus attendees at the DSN Disney Breakfast. Each goodie bag had tons of stickers and every single child got an autograph book as well. Towards the end of the event, a meet and greet was held so the children could take pictures with their favorite Disney characters and to have them sign their new autograph book.
Overall, the day was a huge success. Parents and children alike enjoyed all the delicious food and festive themed activities.
To Learn more about DSN, to join, or to donate, head to DSNlive.org.
Frieda Schweky is Sephardic.Org's official community events reporter. For inquiries and to get involved with our site, please contact Frieda via email.
You may also be interested in...