Evolving by Francine Srour: An Art Exhibition at SCC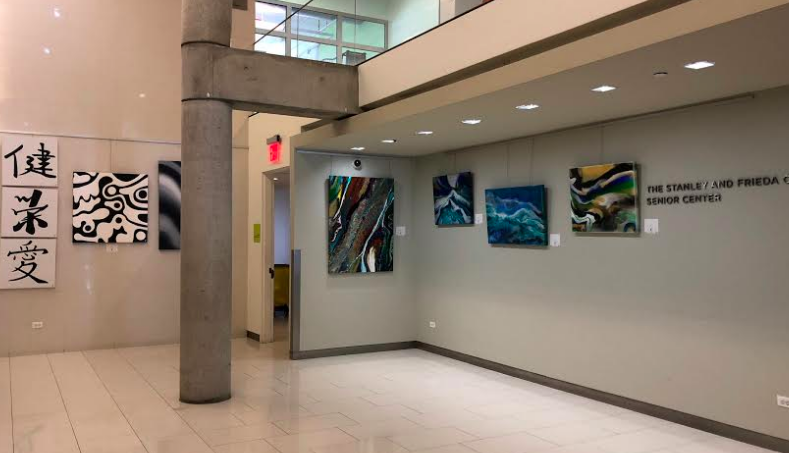 If you've visited The Sephardic Community Center recently, you may have noticed the walls of the first floor being riddled with stunning works of art. From May 10 to June 11, the original artwork of Francine Srour is up on display and for sale at the Center.
The opening reception took place at the Center on the evening of May 10. Hundreds of people came by to see art, enjoy some dairy hors-d'oeuvres with wine, and mingle.
Francine started her career when she attended photography school to become a professional photographer. One day, Francine photographed an image of two swans in a lake. She always enjoyed painting and felt inspired by the beauty of the image to capture it in a different way. She then painted the swans and realized her true passion and direction in life; she was to become an artist. Due to the evolution in her career path, Srour decided to call her first exhibit Evolving.
"I create my paintings using a variety of creative methods," explained Srour of her work. "I look to push the boundaries of modern techniques in painting while still creating beautiful art that can stand out in anyone's home or work space."
Francine typically uses various mediums to create her one-of-a-kind pieces. Srour uses acrylic paint, oil paint, resin, and inks when she tackles a canvas. She is currently beginning to work on larger-scale projects. Srour plans to work with decorators and homeowners in the future as well in order to make custom pieces to fit their design needs.
"As both an artist and photographer, I have one main goal: to capture beauty and encase it in a physical form that is timeless," said Francine of her artistic process. "That beauty can stem from both the reality that we live in, often taken for granted, and from my own imagination."
For more information and to see more of Francine Srour's art, check out her Instagram @francinesrourphotography. To see her work, head over to the Center and take a look at her exhibition, Evolving, on display through June 11.
Frieda Schweky is Sephardic.Org's official community events reporter. For inquiries and to get involved with our site, please contact Frieda via email.
You may also be interested in...