Fire Safety Tips for Upcoming Hanukkah Festivities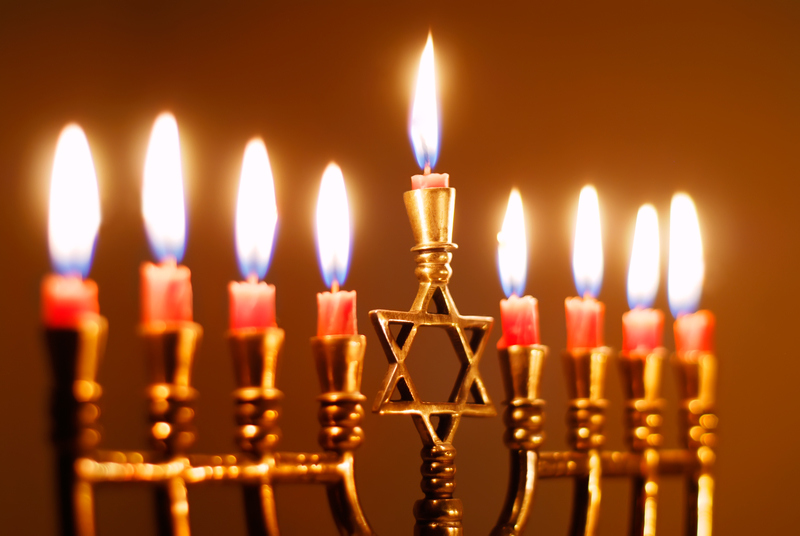 A&J Fire Extinguisher was founded by Jack C. Shammah in June of 2016. They currently offer an array of services for both homes and businesses alike. Their main goal is that all of their clients feel confident that their properties are safe and that they are compliant with current fire codes. A&J sells fire extinguishers that are made in the USA and are the safest on the market. They specializes in violation removal, smoke/CO detectors, insurance compliance, exit/emergency lights, and more.
With Hanukkah being just around the corner, fire safety is extremely important now more than ever. Here are some fire safety tips that can help everyone remain safe during this joyous holiday season.
1. Fire Safety Equipment
It is crucial that each home have a smoke detector, carbon monoxide detector, and fire extinguisher. Not only do you need these things in your home, but you also have to make sure that they are all functioning properly.
According to Jack, families with working smoke detectors have two times a chance of surviving a fire than families who do not. Also, one must make sure that they have enough alarms and extinguishers throughout their home.
Please keep in mind that residential use fire extinguishers expire every six years. After they expire, they are almost useless. This means everyone must check the dates on their extinguishers and keep on top of them.
It is also important to keep in mind that extinguishers are a first line of defense meant to assist in clearing a path for oneself in order to escape a fire. You should not try and put out a structure fire with one extinguisher; leave that job for the firemen!
2. Plan an Escape Route
It is extremely important for everyone to sit with their families and discuss an escape route for each individual in case a fire were ever to break out in your home. The average time it takes to escape a house fire after a smoke alarm sounds is two and a half minutes, so maximize your time by planning your steps.
Here is an example of a family's escape route plan in case of an emergency provided by Jack:
Mary and John Smith have three children: Kate (9 years old), James (5 years old), and Amy (8 months old).
If their fire alarm goes off at night, here is what they would need to do according to their predetermined plan:
A) Kate wakes her brother James up and they get ready to go.
B) Mary gets Amy out of the crib.
C) John grabs the fire extinguisher and together they head for the nearest exit.
It is extremely important to have a plan made up ahead of time with everyone in your family when it comes to escaping a deadly situation such as a fire. A&J can provide any of their clients with such plans as well.
3. Check Power and Extension Cords
When it comes to power and extension cords, it is extremely imperative to make sure that any and all that exist within your home are approved by Underwriters Laboratories Inc.
UL makes sure that all the products they verify are safe. If not, it can be a big hazard lurking in your home.
To check your existing cords, look for the UL stamp pictured below.
4. Know How to Use Your Fire Extinguisher
Educating yourself on how to use a tool like a fire extinguisher is an extremely important thing to do. In case of an emergency that requires use of a fire extinguisher, one should keep in mind the acronym P.A.S.S.
The P-A-S-S technique for fire extinguisher use:
P - Pull the pin. It is there to prevent accidental discharge.
A - Aim low at the base of the fire. This is the where the fuel source is.
S - Squeeze the lever above the handle. Release to stop the flow. Some extinguishers have a button instead of a lever - these should be replaced.
S - Sweep from side to side. Move toward the fire, aiming low at its base. Sweep until all flames are extinguished. Watch for re-igniting. Repeat as necessary. Have site inspected by fire department.
Place any fire extinguisher that has been used on its side on the floor. It will be collected and recharged after the fire scene is secure.
Keeping these steps in mind, one should be able to utilize a fire extinguisher successfully in an emergency situation.
5. Hanukkah Precautions
Hanukkah is an extremely fun holiday for everyone celebrating, but with the customs we now partake in it can also be potentially dangerous. That being said, it is important to lay some ground rules in order to avoid possible accidents.
According to Jack, it is extremely imperative to never leave an open flame unattended. This means that one should not leave their home with their Hanukkah candles burning bright.
Another important tip from Jack is to keep your Menorahs as far away from a child's reach. Keep your Menorah on a higher counter top or table in order to avoid a terrible situation.
And last but not least, Jack instructs everyone who is going to be lighting a Menorah in their home to rest their Menorahs on something extremely sturdy. A bridge table, for example, will not cut it.
A&J Fire Extinguisher and Sephardic.Org would like to wish everyone a very happy Hanukkah. To learn more about fire safety, check out A&J's website or follow them on Instagram.
Frieda Schweky is Sephardic.Org's official community events reporter. For inquiries and to get involved with our site, please contact Frieda via email.
You may also be interested in...