Fire Strikes Agudath Israel of Flatbush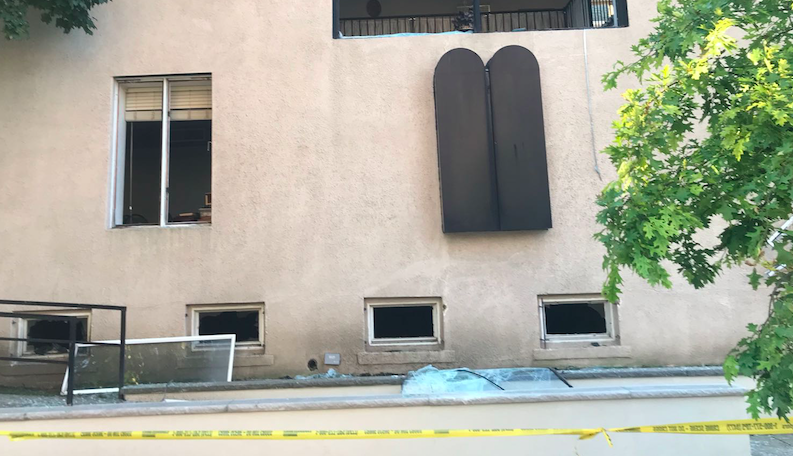 Pictured Above: Do not cross tape stretches across the sidewalk outside of Agudath Israel of Flatbush and windows to the basement level are broken due to a fire.
In the early morning hours of Sep. 30, worshippers entered the Agudath Israel of Flatbush synagogue only to find a fire had taken over the basement level of the building.
The basement of Agudath Israel of Flatbush damaged from the fire.
Agudath Israel of Flatbush is located on Avenue M and Ocean Parkway in Brooklyn, NY. When attendees came to say the morning prayers of Shaharit at 8 a.m., they noticed the smell of smoke and discovered that a fire had taken place in the basement of the synagogue.
The main sanctuary of Agudath Israel of Flatbush was left virtually unharmed.
Luckily, the fire was contained within the basement and did not cause any damage to the main sanctuary. No one was injured and the Torahs, Sidurs, and Talets were all left undamaged.
Another room within Agudath Israel of Flatbush left undamaged.
The cause for the fire is currently unknown and being investigated. Agudath Israel of Flatbush is currently looking to relocate for the time being until it is safe to pray within their facilities again.
Shul-goers looking on as the building is closed due to damage.
Shelly Forman is currently serving as editor-in-chief of Sephardic.Org. Shelly curates the content that comes through to Sephardic and makes sure that each and every article, video, and image on the site goes along with our amazing mission statement.
You may also be interested in...