Health Tips and Tricks from @HolyKale's Paulina Ashkenazi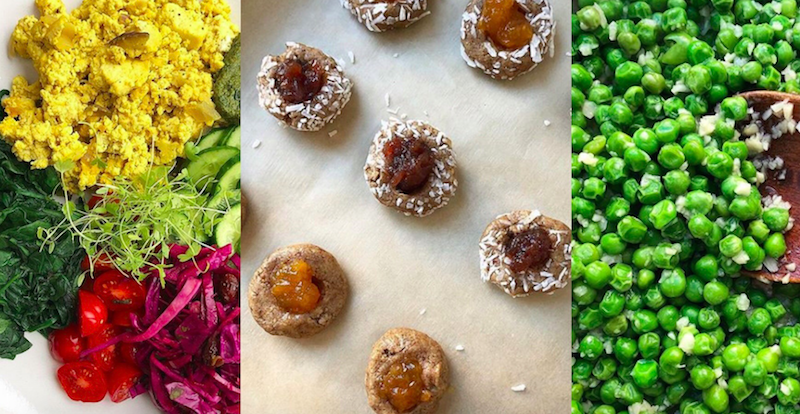 In today's health-food-crazed world, social media plays a huge role. When scrolling through an average person's Instagram feed, you may notice dozens, if not more, of images and accounts that solely post images of food-related items such as recipes, tips, and tricks. In 2014, Paulina Ashkenazi joined the epidemic and started her Instagram page dubbed HolyKale.
From a young age, Paulina felt drawn to the kitchen. She would request that her mother buy special ingredients for her to cook sophisticated dishes for herself. Her passion for food continued into adulthood. When pregnant with her second child and dealing with all the typical sicknesses that come along with pregnancy, Paulina decided she was going to make a change in her life. Rather than just eating a slice of bread to temporarily calm the nausea, she was only going to cook and eat food that served a purpose.
Ashkenazi solely wanted to consume meals that would make her feel good. That's when she began to really dive into the health-food world. Paulina educated herself by reading books and taking an online course to become a certified health coach. She believes that life is all about balance and that one's diet should consist of a majority of real food and nutritious things that fuels your body with the proper nutrition it needs.
There are a few significant things that set Paulina's HolyKale apart from other food influencers on social media. Firstly, whenever she posts an image of one of her creations, she puts the recipe directly in the caption below it. There's no 'click the link in bio' to lead readers to a blog, no up-sell, and no confusion. This is simply because her goal is to get her followers to make a snap decision and hopefully decide to try her recipe! In order to make her recipes more approachable, she purposely doesn't put out many recipes that are overly complicated or intimidating.
"I want my followers to know that anything I can make, they can make," explained Paulina. "I aim to Inspire as many people as possible to get in the kitchen. The most rewarding part of my job is receiving pictures from my followers who tried out one of my recipes and are excited to eat it."
Aside from her Instagram, Paulina offers private and semi-private cooking lessons as well as pantry makeovers. Pantry makeovers consist of Paulina personally going through your pantry to see what you've got. She'll take note of the things that must be thrown away and give you healthier and better options of products she observes you like and use. Things like cake mixes and margarine that contain hydrogenated oils would be on the must-go list. Also, non-food items like artificial color dyes and products with MSG would get the boot. She'll then make a customized and detailed shopping list to set you up for success.
Here are some tips from Paulina of HolyKale that can help you maintain a successful and healthy day of eating right.
1. Make savory breakfasts.
Paulina insists that one should try to avoid sweet breakfasts like cereal or pancakes that contain sugar.
Most people who eat sugar in the morning wind up craving it the rest of the day. Eating a savory breakfast can help you make better choices throughout the day.
2. Don't be afraid of the long-term meal prep!
Yes, meal preparation is usually necessary for a successful day, but it doesn't have to be a whole production. In most cases, it can simply mean that whenever you cook, just make extra and store it.
For example, if you are making quinoa salad for dinner, make a double recipe so you can have some leftover for a quick and healthy lunch the next day.
3. Incorporate some probiotics.
Try incorporating fermented food into your daily diet to ensure good gut-health. According to Paulina, gut-health is a key factor that goes into living a healthy lifestyle. Many doctors recommend probiotic supplements, but if you're eating things with the proper nutrition, you may not need an extra boost of it.
So what foods have probiotics? Greek yogurt can be an easy quick-fix of daily probiotics. Fermented foods like sauerkraut, kimchi, and tempeh all contain probiotics as well. Paulina makes her own sauerkraut from scratch and insists this is the yummiest way to get your probiotic fix.
4. Done is better than perfect.
What this means is that if your going to let the details stop you from doing something, it's ok to take shortcuts rather than not trying at all.
Want to include more veggies in your diet but don't have the time to cut and clean veggies? There's no harm in buying pre-cut and pre-washed fruits and veggies. Even flash frozen vegetables are significantly better than none at all! Take the shortcuts if it means getting to your destination!
To learn more about Paulina Ahskenazi and to see her recipes, follow her on Instagram, @HolyKale.
Frieda Schweky is Sephardic.Org's official community events reporter. For inquiries and to get involved with our site, please contact Frieda via email.
You may also be interested in...