IDF Arrests Mother of Arab Brothers who Carried Out Two Bus-Stop Shootings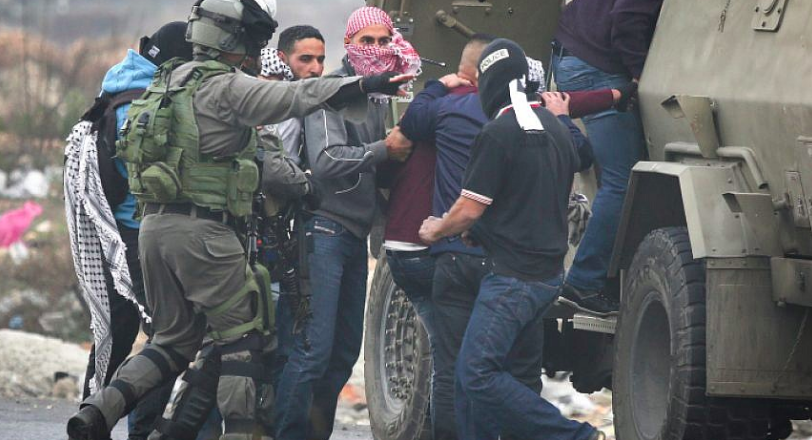 Pictured Above: Illustrative: Israeli undercover troops arrest a Palestinian man during a protest in the West Bank City of Ramallah against U.S. President Donald Trump's latest decision to recognize Jerusalem as the capital of Israel, Dec. 13, 2017. Photo by Flash90.
(JNS) The mother of two brothers who carried out terror attacks within days of each other in December was arrested by the Israeli army on Monday night, according to reports in Arab media.
Suheir Barghouti was arrested near Ramallah, as part of operations to bring in terror suspects, which resulted in the arrest of 25.
On Monday, the Israel Defense Forces announced that it would demolish the homes of Salih and Asem Barghouti, who sprayed bullets at commuters standing at the Ofra bus stop on Dec. 9, resulting in the severe injury of a pregnant woman and the ensuing death of her baby. Seven other people were injured in the attack.
Salih Barghouti was killed by IDF forces while trying to evade arrest three days later. His brother Asem opened fire at a bus stop just down the road from Ofra on Dec. 10, killing two Israeli soldiers and seriously injuring a third, and also hitting a civilian woman.
The attack was not Asem's first; he was released from Israeli prison in April 2017 after serving an 11-year jail sentence.
Asem was arrested in January, with family and friends of the brothers also being brought in for questioning.
Two of the brothers' uncles and their father were all previously convicted for roles in fatal terror attacks.
You may also be interested in...