IDF Patriot Missile Intercepts Drone from Syria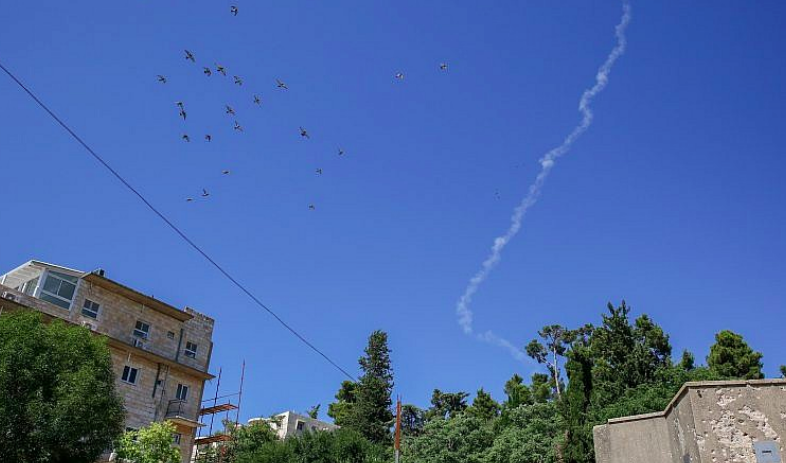 Pictured Above: A smoke trail of a Patriot missile intercepted a drone approaching Israel from Syria in the northern Israeli city of Tzfat on July 11, 2018. Photo by David Cohen/Flash90.
(JNS) The Israel Defense Forces shot down a drone on Wednesday that infiltrated Israeli airspace from Syria.
"The UAV infiltrated the Israeli border from Syria. The Patriot aerial defense system identified the threat and tracked it until its interception," the IDF Spokesperson Unit said in a statement on Twitter. "The IDF will not allow any violation of Israeli airspace and will act against any attempt to hurt its civilians."
According to reports, the drone flew some three miles into Israel before it was show down over the Sea of Galilee. The Israel Police shut down boating along the Sea of Galilee as fragments from the interception apparently fell into the water.
Last February, an Iranian drone launched from Syria also infiltrated Israeli air space and was shot down, which set off a tense military confrontation between Israel and Iran that could have escalated into a wider war between the two foes. As part of that incident, an Israeli F-16 later shot down over Syria during an Israeli attack on the Syrian airbase that the drone was launched.
On Tuesday, Israeli Defense Minister Avigdor Lieberman vowed to act against any pro-Iranian terror buildup along the Golan Heights.
"We are identifying elements affiliated with the [Iranian-Shi'ite] axis trying to establish terror infrastructure in the Golan under the auspices of the Syrian regime. This is unacceptable, and we'll act against any terror infrastructure we identify here," Lieberman said during a tour of the Golan Heights border. "We consider the [Syrian] regime responsible, and it will pay the price for cooperating with the axis organizations."
There has been tense fighting in southern Syria in recent weeks as President Bashar Assad—backed by Russian, Iranian and Hezbollah fighters—has sought to retake the region from rebel groups. This offensive has created a humanitarian disaster along the border, with tens of thousands of Syrians fleeing to temporary camps set up along the Israeli and Jordanian borders.
You may also be interested in...