IDF Strikes 12 Hamas Sites in Gaza After Several Dozen Rockets Fired on Southern Israel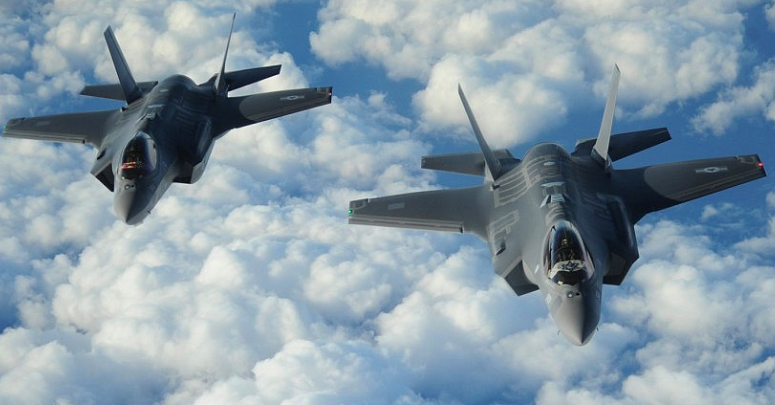 Pictured Above: Two Israeli F-35 "Adir" jets fly in formation. Credit: U.S. Air Force/1st Lt. Erik D. Anthony.
(JNS) The Israel Defense Forces hit 12 Hamas positions across the Gaza Strip, including a factory that produces concrete for terror tunnels, late Wednesday night after several dozen rockets were fired on southern Israel by the Hamas terror group.
Rockets set off sirens across southern Israel on Wednesday evening in the towns of Hof Ashkelon, Sha'ar Hanegev, Sdot Negev and Eshkol regions.
According to the IDF, approximately 70 rockets were launched from the Gaza Strip at Israel. The Iron Dome missile-defense system intercepted 11 launches; the majority of the rockets hit open areas.
However, earlier in the evening, at least two Israelis were injured as a result of rockets that landed in Sderot.
According to Magen David Adom, the two injured—a 34-year-old man with wounds from glass shards and a 20-year-old with light injuries—were evacuated to Barzilai Medical Center in Ashkelon. More than a dozen other people were treated for shock, including three pregnant women who began having labor contractions from the stress.
In a statement, the Hamas terror group said: "We are delivering on our promise. The resistance accepted the responsibility to even the playing field with the enemy and it is succeeding in doing so."
Earlier on Wednesday, Hamas terrorists fired at an engineering vehicle near the northern Gaza Strip that was involved in the construction of a barrier along the security fence. In response, an IDF tank targeted a Hamas post in the northern Gaza Strip.
While there were no immediate reports on injuries, the IDF did show pictures of damage to the vehicle.
On Tuesday, an IDF tank shelled a Hamas observation post along the Gaza border, which killed two terrorists, after an attack by Hamas snipers.
The attacks by Gaza terrorists have been part of the ongoing tensions between Israel and Hamas in recent months, which have included near-weekly protests along the Israel-Gaza border.
Reports in recent weeks have indicated that a long-term ceasefire between Israel and Hamas may be in the works that would include easing the humanitarian situation in the Gaza Strip.
You may also be interested in...