Iran Leader Visits Austria, Chancellor Calls Tehran's Anti-Israel Rhetoric 'Unacceptable'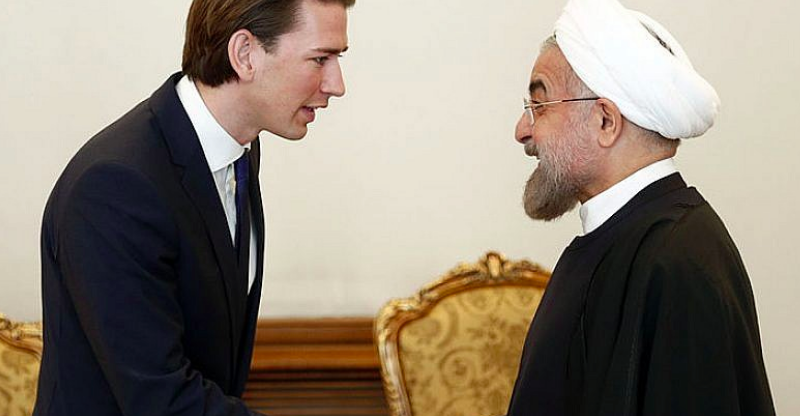 Pictured Above: Austrian Chancellor Sebastian Kurz and Iranian President Hassan Rouhani in Tehran in 2013. Source: Wikimedia Commons.
(JNS) Austrian Chancellor Sebastian Kurz said at a joint press conference with Iranian President Hassan Rouhani in Vienna on Wednesday that "in this memorial year in which we are particularly aware of our historic responsibility, I want to clearly emphasize that we condemn in the strongest possible terms any form of anti-Semitism and any downplaying or even denial of the Holocaust."
"The concerns of Israel have to be taken into consideration," said Kurz. "It is absolutely unacceptable if Israel's right to exist is being questioned or if there is a call for the destruction of the State of Israel."
The military honor welcome provided to Rouhani upon his arrival in Vienna on Wednesday drew criticism from the president of the Jewish community in Vienna.
"No agreement—neither an oil business nor an atomic deal—is more important than human life," said Oskar Deutsch. "Decades of diplomatic mediation attempts have not led Tehran to relinquish its terrorist support, and the threat of annihilation against Israel has even increased, and then a top representative of this hatred regime will be received in the city from which an assassination of opposition forces in Europe is planned."
Iranian diplomat Asadollah Assadi was arrested in Bavaria for involvement in an alleged plot to bomb a Paris rally calling for regime change in Iran over the weekend.
"In Iran, anti-Semitism is part of the national interest," said Deutch, citing both the 2012 terrorist attack in Burgas, Bulgaria, in which Iranian-funded Hezbollah blew up an Israeli tour bus, murdering five Israelis and their bus driver, and the Iranian-sponsored attacked on the Jewish AMIA community center in Buenos Aires in 1994 that killed 85 people.
According to Deutsch, Rouhani was a key decision-maker in Iran during the years of those attacks.
In a joint press conference with Austrian President Alexander Van der Bellen, Rouhani called the United States and Israel "destructive," and said Iran will remain in a nuclear deal with European countries despite America's withdrawal from the pact under U.S. President Donald Trump.
You may also be interested in...