Israel's High Court Faces Override Challenge from the Knesset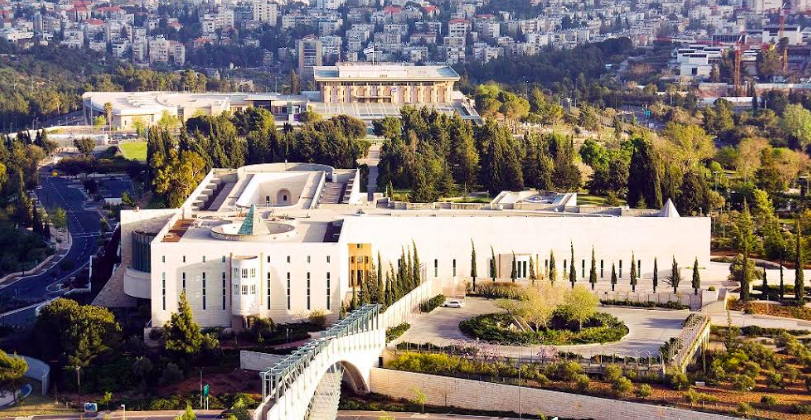 By David Isaac
(JNS) The late U.S. Supreme Court Justice Antonin Scalia said he liked to read Israeli Supreme Court rulings because they made him feel better about his own court. Similarly, Judge Robert Bork in his book Coercing Virtue: The Worldwide Rule of Judges (2003) gave Israel's high court "pride of place in the international judicial deformation of democratic government."
Today, Scalia and Bork's way of thinking is shared by most of Israel's government, all but one of the leaders of its six-party coalition. The government's solution is the Override Clause. If passed into law, it would give the Knesset the power to reverse Supreme Court rulings with a simple majority of 61 votes. Override legislation survived its first test on June 3, when it made it out of committee and was sent to the Knesset for approval. The Knesset vote hasn't yet been scheduled.
At the heart of the matter is the question of checks and balances. Coalition leaders describe a runaway, self-selecting oligarchy overturning laws at an ever more alarming rate, using legally dubious justifications as it interferes in areas beyond its purview. They complain specifically that the court: 1) has granted itself the authority to cancel laws; 2) doesn't require a petitioner to have "legal standing"; 3) is the court of first and last appeal; 4) chooses its own members; and 5) considers just about everything justiciable.
"The Supreme Court has basically turned itself into the sovereign, the highest authority on everything. That's not what they're supposed to do. They're not supposed to govern. We've been elected. They have not," Jewish Home Party Chief Naftali Bennett declared in an interview with The Times of Israel in late May.
"Override—for us it means the last word is with elected officials," echoes Simcha Rothman, legal adviser to Meshilut, the Israeli Movement for Governability and Democracy, the nonprofit group that has been leading the charge in favor of the Override Clause. "It just says the courts can't cancel laws. It's plain and simple. The legislative power is vested 100 percent in the parliament."
Rothman puts the chances the bill will pass at 10 percent. That's because one of the coalition members, Moshe Kahlon, leader of the Kulanu Party, is against the bill. And without his support, there won't be enough votes. A poll suggests that Kahlon is bucking his own constituency. Nonetheless, Rothman calls the odds "1,000 times better than what we've had."
One issue, in particular, has aroused public antagonism—that of illegal immigrants from Africa. The court struck down three laws between 2013 and 2015 that tried to tackle the problem. The court also ordered a detention center on the Israeli-Egyptian border that housed the illegals closed, sending most back to a depressed section of Tel Aviv. A February 2018 poll found that 69 percent of Israeli Jews want the Africans deported to a third country.
"The Supreme Court's decision to get involved in matters important to the public, such as illegal immigration, basically brought the whole discussion of the override forward," says Attorney Meir Buchnick of Kohelet, a Jerusalem think tank that has been promoting the Override Clause since 2013. As a law student, he recalls that override discussions were heard only in law schools. "The fact that I can go out now on the street and talk to someone randomly about the Override Clause shows we've crossed a red line," he says.
"People are getting more and more angry," says Matan Peleg, CEO of Im Tirtzu, a Zionist movement that promotes the Jewish character of the state. He describes the Supreme Court as "post-Zionist." It shares a progressive worldview at odds with the majority of the country, which wants a uniquely Jewish state, he adds. "The people in the judicial system look at the nation like a mob. They see themselves as enlightened—people who need to save the people from themselves," he says.
Peleg compares the Supreme Court to Iran's Guardian Council, "another example of 'Holy People,' a smart, enlightened elite above the government."
Adding weight to Peleg's assertion is a new report from Regavim, a group that focuses on land issues and favors the Override Clause. Last week, it released a report "Measure for Measure 2018: An Index of Judicial Parity," which reveals a "deep-seated, systemic bias" regarding petitions concerning illegal construction in Judea and Samaria. "The number of interim orders or temporary injunctions granted to left-wing appellants is seven times higher" than for right-wing appellants, despite both sides using almost identical legal arguments, the report finds.
'Facebook and Twitter changed a lot of things'
It wasn't long ago that Israel's Supreme Court was considered sacrosanct. Justice Bork describes in Coercing Virtue "a torrent of denunciations" in Israel against any newspapers that dared criticize the Supreme Court. "Complaints were filed with the police, charging the papers and their editors with sedition and defamation. There were calls for closure of these newspapers, while prominent politicians from almost every party vied to produce the most vicious castigation of the 'crime,'" wrote Bork.
Rothman agrees. "In 2011, when we started, people said don't talk about the court. It will create a backlash. In 2012, [Israeli] Prime Minister [Benjamin] Netanyahu proudly said how he had blocked attempts to 'hurt' the Supreme Court. Now he's for the Override Clause. Three parties put it on their agenda in the last election," he says.
Both Rothman and Buchnick credit social media as an important factor. "Facebook and Twitter changed things a lot. People who didn't have access now have access and feel free to express themselves," says Buchnick. Rothman offers his own crowdfunding campaign as proof that the public wants reform. In what itself became a news story, Rothman raised about $69,000 from more than 1,000 donors to write and publish a book titled 7 Shocking Rulings of the Israeli Supreme Court.
Even so, while the Israeli Democracy Index—a survey put out by the Israeli Democracy Institute—shows a 16.5 percent drop in public trust in the Supreme Court in the last five years, public attitudes to the court are still much more favorable than they are to other institutions. Public trust in the Knesset stands at 27 percent and political parties at 15 percent. Noteworthy is that the latest 2017 poll finds that a majority of the public, 56 percent, still opposes the Override Clause.
The problem is that Israelis don't know the "outrageous" story behind the court's power grab, Rothman says. "Ask someone in Israel: When did Israel adopt a constitution? They won't know. The answer is: Israel doesn't have a constitution."
Without a constitution, the court has no legal justification to strike down laws. In 1992, Israel passed two Basic Laws covering some basic human rights, like right to privacy and property. Using a 1995 Bank Mizrahi case as a vehicle—the case itself had nothing to do with constitutional issues—the Supreme Court declared that Israel had undergone a "constitutional revolution."
"No one was aware of this 'constitutional revolution,' explains Rothman. "The Knesset didn't know about it. But the court says in 1995, 'We're telling you it happened. And from now we can cancel laws based on these two Basic Laws.'"
The force behind this 'revolution' was Aharon Barak, president of the Supreme Court from 1995 to 2006. He also drove the court's activist philosophy through his fundamental belief (what he called his defining vision) that everything can be decided by the court. Barak wrote in 1992:
"In my eyes, the world is filled with law. Every human behavior is subject to a legal norm. Even when a certain type of activity—such as friendship or subjective thoughts—is ruled by the autonomy of the individual will, this autonomy exists, because it is recognized by the law. … Wherever there are living human beings, law is there. There are no areas in life which are outside of law."
Kohelet produced a tongue-in-cheek video declaring Israeli Supreme Court justices super-heroes for their ability to judge absolutely everything, listing increasingly detailed and ludicrous examples of what the Supreme Court has ruled on, including taxes on third apartments, military haircuts, women's basketball broadcasts and subsidizing private monkey farms.
Minister of Justice Ayelet Shaked instituted some reforms in the self-selection of Supreme Court justices that Rothman praises, though also notes was a temporary fix.
A Court That Selects Its Own Members?
In Israel, a nine-member committee selects judges. The committee is made up of three justices, two Israel Bar Association members, two cabinet ministers and two Knesset members. "The Bar usually votes with the judges bringing the total on the side of the court to five. And one of those two Knesset members is from the opposition. So, in reality, the court gets six of the nine votes," says Rothman. "Shaked got the Bar to work with her. She also had luck because the opposition member came from Israel Beitanu. They joined the coalition afterward," he said, adding that there's no guarantee that such a constellation will remain.
Buchnick notes that the judges also have veto power: "To vote in a judge, there has to be at least seven votes. If you have three of them, you can veto any other vote."
Israel Democracy Institute President Yohanan Plesner argues that Shaked's changes were enough, and those who say the court is self-selecting are rehashing arguments that are "completely irrelevant today." Plesner opposes the Override Clause, saying it will undermine the Supreme Court as an independent institution that can strike down legislation. The court is the only obstacle between politicians and their unrestrained rule, he argues.
Buchnick finds Plesner's argument unconvincing. "It's amazing to me that anyone can look at the attempt to put in the Override Clause and say that there will be a tyranny," he says, noting that in the Supreme Court three like-minded judges can cancel an Israeli law, but to put together that law requires a large number of Knesset members after much give-and-take. "If anything, I'm afraid of the Supreme Court tyranny, not the government or Knesset tyranny."
Rothman agrees, saying he trusts the democratic political system more than an "unelected self-perpetuating political group."
He says that a simple majority of 61 votes is more than sufficient to override Supreme Court decisions that strike down laws. "There's no justification for even a simple majority of 61," he says. "In Israel, there wasn't a supermajority, or even a regular majority, that gave the court the right to strike down laws."
The two Basic Laws on which the court based its right to cancel laws were passed without even a majority present. The first passed by 32-23 votes and the second by 23-0. Rothman considers the requirement of a simple majority itself a compromise. "I prefer a regular majority," he says. "I prefer that the court will never be able to cancel Knesset laws."
Despite the current low odds of passing the Override bill, Rothman remains hopeful that public attitudes are changing, as the court's actions increasingly alienate the public. "The last few years, they went crazy, Rothman says. "Last year, the Supreme Court cancelled five laws before they even went into effect."
Buchnick sees the Override Clause as just the beginning. The selection process is the next step.
Israel is the only country where "the court chooses its own judges and has the right to strike down laws by the parliament," he says. Rothman agrees, adding that limits are also required for legal standing and justiciability. Rothman also wants an end to the "reasonability" argument, whereby judges can overturn laws based on whether they are "reasonable."
"I believe after we do all that," says Rothman, "we can take a day of vacation."
You may also be interested in...