Israeli Communities Near Gaza Targeted Overnight by Rockets, Damage Reported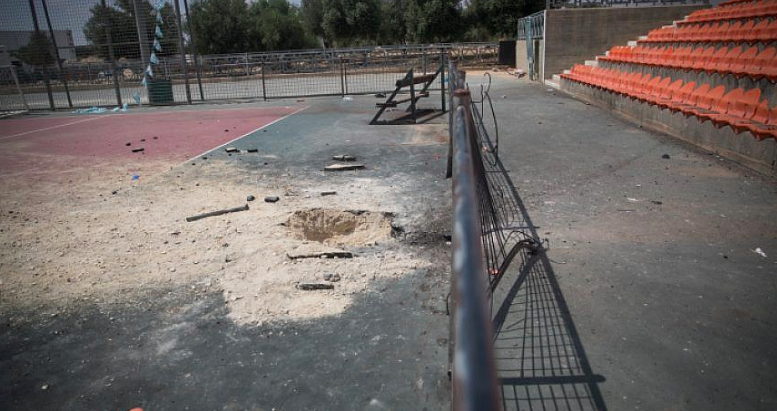 Pictured Above: The scene where a grad rocket felt in the southern city of Netivot, Wednesday, May 30, 2018. Photo By Yonatan Sindel/Flash90.
(JNS) A barrage of rockets was fired at Israeli communities on the Gaza border early Wednesday morning, shortly after Hamas signaled its willingness to enter into a ceasefire.
Red Alert alarms were activated through the night in the Eshkol, Sha'ar HaNegev, and Sdot Negev regions, and were also activated in Bnei Shimon and Merhavim regions, as well as in the larger cities of Ashkelon and Netivot. Several of the rockets which were intercepted by the Iron Dome missile defense system.
One of the rockets landed on a home, causing damage but no injuries. Another rocket exploded at a sports stadium in Netivot around 1 a.m., causing damage.
The mortars were fired approximately an hour after Hamas deputy Khalil al-Hayya issued a statement saying Hamas would commit to a ceasefire if Israel did.
Six people who suffered light injuries running for shelter during the alarms were taken to Barzilai Medical Center in Ashkelon, along with two who suffered panic attacks from fear. Despite the overnight rocket fire, authorities opened schools in all the communities neighboring the border with Gaza.
Israel responded to the launches by attacking 25 Hamas terror targets, including rocket and arms manufacturing plants, training camps, storage facilities, military installations, and armament and missile storehouses.
The IDF held Hamas responsible, saying in a statement, "Hamas again chose to operate against the interests of the strip's citizens, and after failing in the violent riots it orchestrated along the security fence, it chose to launch a widespread projectile attack against Israelis."
You may also be interested in...