Israeli Man, 71, Escapes Palestinian Carjacking, Thanks to PA Police and IDF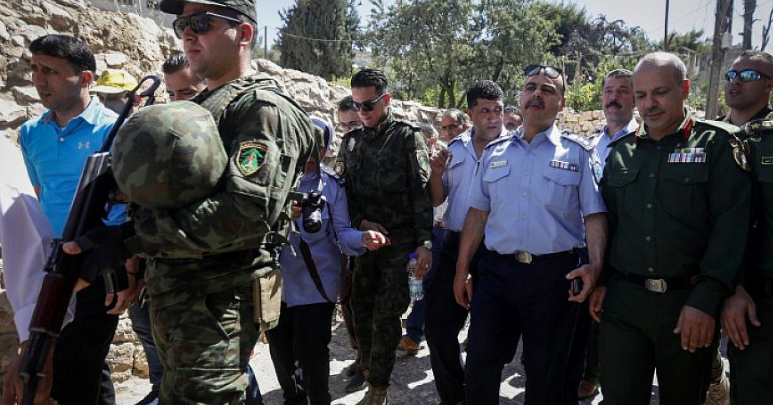 Pictured Above: Head of Palestinian national security forces in Hebron Brig. Gen. Hazem Abu Hanood and head of the Palestinian police Brig. Gen. Ahmad Abu Rob talk to people during a visit to the Old City in Hebron on July 31, 2018. Photo by Wisam Hashlamoun/Flash90.
(JNS) An Israeli man who was carjacked by two Palestinians then abandoned him in Qalqilya attributed his rescue to a coordinated effort of the Israel Defense Forces and Palestinian Authority security services.
Holon resident Natan Said, 71, was on his way from Samaria to Kfar Saba on Saturday when something hit the back of his car outside Nabi Ilyas, a Palestinian Authority-controlled town, and near the Jewish town of Alfe Menashe.
Two men stopped him, then jumped into a car while pressing a gun to his head, according to Said. "I thought they were going to kill me," he said.
The men demanded that Said drive them to Qalqilya, then dropped him in an orchard before absconding with his car.
Said called the police, at which point three Jeeps belonging to Palestinian Authority security forces arrived, followed by more Jeeps that went after the carjackers.
According to Said, the P.A. security officers treated him well, bringing him coffee and helping him calm down. He was later notified that his car had been found, at which point Palestinian police escorted him to the vehicle, accompanied him out of Qalqilya, and delivered him to IDF officers, who brought him to the Ariel police station for questioning.
You may also be interested in...