Jay Kestenbaum to Succeed Moishe Hellman as Co-President of OHEL Family Services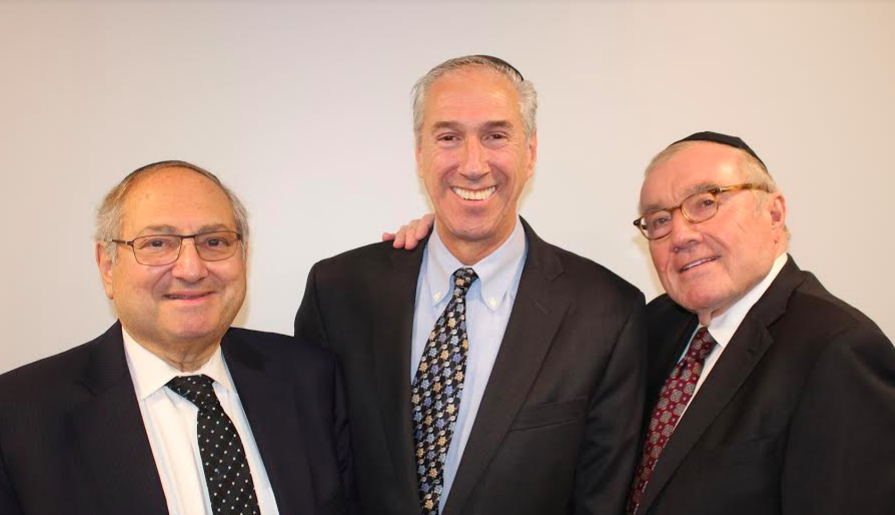 Pictured Above: Moishe OHEL Co-President, Jay Kestenbaum incoming Co-President, Mel Zachter Co-President.
Moishe Hellman, who for more than two decades served as President of OHEL Children's Home and Family Services, and most recently as Co-President with Mel Zachter, is stepping aside to welcome incoming OHEL Co-President Jay Kestenbaum. Mr. Hellman will continue to be actively involved as OHEL President Emeritus, and Ombudsman advocating on behalf of individuals and families.
From humble beginnings as a foster care agency providing love and safety to just a few Jewish children, the Milton and Molly Schulman OHEL Foster Care Program has provided loving foster care to over 2,500 children. And OHEL today serves nearly 12,000 individuals through a gamut of programs and services throughout New York City, Nassau County, Northern New Jersey and nationwide.
Mel Zachter, OHEL Co-President with Moishe Hellman, shared his distinct pleasure in working with Moishe over the many years and conveyed that the past 26 years of OHEL's growth and expansion was directly through the vision and leadership of Moishe Hellman. Said Mr. Zachter, "Moishe has been a role model to us all, teaching us how to act, how to react, and how to lead by actions and not just words."
Some of the ground-breaking programs developed over these years include: Tikvah at OHEL, the Lifetime Care Foundation, Day Habilitation, Domestic Violence Shelters, Addiction Prevention Program, Trauma Services, the Kleinman Family OHEL Regional Center in Far Rockaway, Camp Kaylie in Wurtsboro, the new OHEL Jaffa Family Campus in Flatbush, Ganger Family Medical Services and ETTA OHEL in Los Angeles.
As Moishe Hellman conveys "OHEL has always done the heavy-lifting in our community, addressing the many communal and individual challenges many others have often shied away from." OHEL has built a reputation as the "gold standard" in service provision driven by a results-oriented focus in every area of service.
Commenting on his more than 45 years of involvement with OHEL, Moishe said that "OHEL belongs to everyone, and I have been privileged to be part of the OHEL Family for all these years. OHEL is the gatekeeper for Klal Yisroel, and I have tried to do all with a full heart and truth. I thank my family for their encouragement and patience - for work that often kept me busy at all hours of the day and night. I am very grateful to continue to work with the Board of Directors and the wonderful staff at OHEL."
Incoming OHEL Co-President, Jay Kestenbaum, was introduced to OHEL over 27 years ago, by OHEL Board Member Fred Schulman. Jay spoke about the humbling enormity of the task before him saying, "I am left the seemingly impossible task to fill the big shoes of Moishe Hellman. However, joining Mel Zachter as Co-President, and in partnership with an engaging, visionary and professional Board, this succession and my work is made that much smoother."
Jay acknowledged the dedication and self-sacrifice of over 1,200 staff and reiterated that the OHEL Board was not only responsible to continue to provide strong leadership, but that the Board was steadfast in providing all the necessary support for OHEL to fulfill its mission in providing services that help build lives, and strengthen families, homes, and communities to face social, developmental and emotional challenges.
Jay Kestenbaum will officially be installed as OHEL Co-President on November 11, 2018 at the OHEL Annual Gala at the Sheraton New York Times Square Hotel.
Shelly Forman is currently serving as editor-in-chief of Sephardic.Org. Shelly curates the content that comes through to Sephardic and makes sure that each and every article, video, and image on the site goes along with our amazing mission statement.
You may also be interested in...