Kol Yaakov Shopping Expo and Food Market Deemed a Success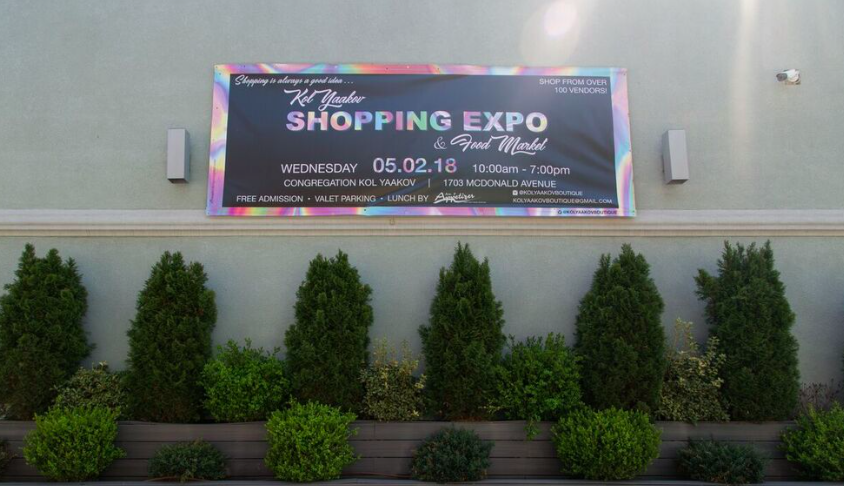 On May 2, the fourth annual Kol Yaakov Shopping Expo and Food Market took place. Vendors and customers alike look forward to this major showcase of the top community-owned businesses selling the best products under one roof each year. The event was conceived and executed by sisters Sarah Kassab and Norma Akkad who are both under the age of 23. They happily report that each year the turn out is getting even greater. This past expo featured about 100 vendors and over 1,000 community members and others came out to participate in the event. A part of the expo's profit is donated to the Kol Yaakov Congregation each year as well.
The sisters branded the expo and advertised via printing high-quality postcards and handing them out to local stores. They also made sure they had a foothold on social media by having all of the vendors who were to exhibit that day post Kol Yaakov Shopping Expo graphics on their Instagrams and tag the expo's Instagram account.
Additionally, Kassab and Akkad held a contest using social media. The winner, who was chosen shortly after the expo, was awarded five hundred dollars to spend at any two vendors of their choice. All of this effort was put forth to assure that as many people showed up to the event as possible. The main objective is that the vendors do very well and are inclined to come back the next year.
Appetizers located on Ave P in Brooklyn, NY was selling wraps, muffins, salads, pasta, smoothies, snacks and more for all who attended. The vendors who exhibited were not limited to the Brooklyn community, in fact, some came out from the Five Towns, New Jersey, and all over the tri-state area for the opportunity to show at this event. There were about 10 vendors sampling and selling food products. Among these were Pop Insanity, the Specialty Popcorn Company, Baked by Bibi's who's healthy treats pleased the crowd, and Lalou Desserts which is owned by a chef from Paris, France.
Most of the vendors featured at this expo sell their products from out of their homes the majority of the time or are new businesses. This expo gives them the opportunity to network with people and potentially broaden their customer base beyond just the sales they may have made that day. Getting their product and brand in front of people can be crucial to a new business's success.
@Elles_Essential_Life, for example, asks people to pinpoint things they need support with, whether emotional or physical. The owner is then able to recommend the best essential oils to assist in their healing. @Spicifyfoods is a new brand of consommé whom's products are natural, low sodium, and contain no MSG. They, too, took advantage of this opportunity to speak to potential customers about their new business.
One up and coming non-profit that was featured was @masterartisans by Gracie Azar. It is a senior citizen organization that takes place in the Sephardic Community Center where the seniors gather together to make jewelry and handbags. All the money they get from sales gets put back into the company for supplies. It's a great way to help the seniors that participate feel accomplished.
For more information check out the Instagram @KolYaakovboutique or to be involved in next year's expo contact KolYaakovboutique@gmail.com.
Frieda Schweky is Sephardic.Org's official community events reporter. For inquiries and to get involved with our site, please contact Frieda via email.
You may also be interested in...