Kushner and Greenblatt Arrive in Israel this Week to Continue Peace Talks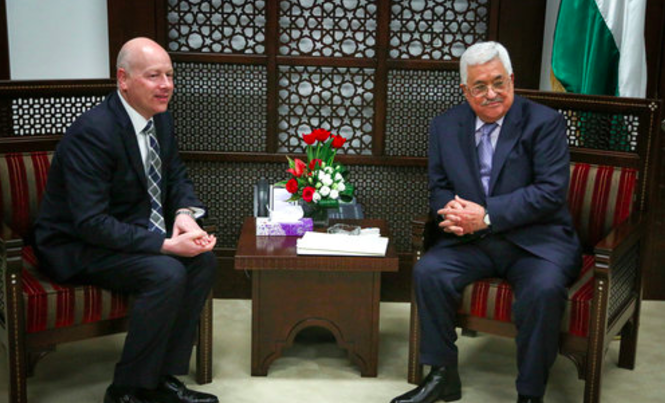 Pictured Above: Jason Greenblatt, President Trump's international negotiations representative, meets with Palestinian Authority President Mahmoud Abbas in Ramallah in March. Credit: Flash90.
(JNS.org) U.S. President Donald Trump's son-in-law and senior adviser Jared Kushner and international negotiations adviser Jason Greenblatt will travel to Jerusalem and Ramallah this week to discuss the next phase in renewed U.S.-led peace efforts in the region, a White House official said Sunday.
Greenblatt is scheduled to arrive in Israel Monday and Kushner will arrive Wednesday.
"Excited to be traveling back to Israel and the Pal. Territories to continue the discussion about the possibility of peace", Greenblatt tweeted Sunday night.
During their meetings in Jerusalem and Ramallah, Kushner and Greenblatt will speak directly with Israeli and Palestinian leadership "about their priorities and potential next steps," said the White House official. "President Trump has made it clear that working towards achieving a lasting peace agreement between the Israelis and Palestinians is a top priority for him. He strongly believes that peace is possible."
The visit by Trump's senior aides follows the president's recent visit to the region in May, as part of his first foreign trip abroad.
During his visit to the region, Trump met separately with Israeli Prime Minister Benjamin Netanyahu and Palestinian Authority President Mahmoud Abbas, and pledged his support for renewed Israeli-Palestinian peace negotiations.
You may also be interested in...