Local Community Members Raise $14K for Team SBH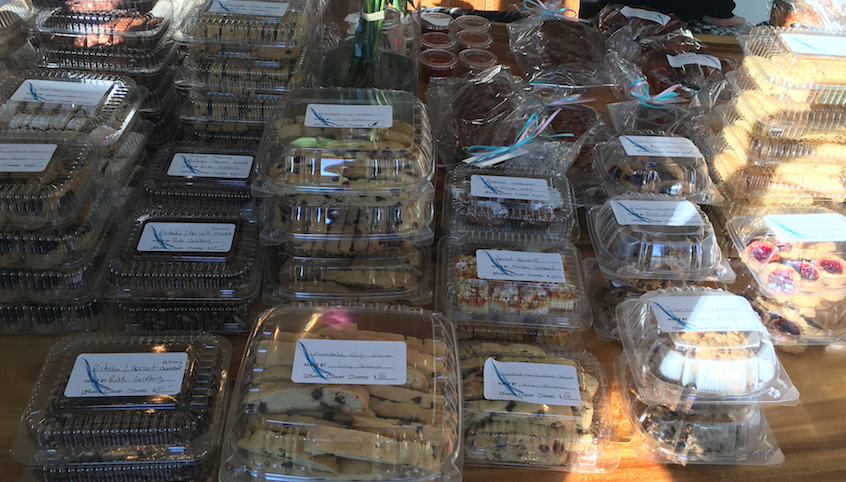 With the Team SBH Annual Disney Marathon Weekend approaching, many runners get creative in order to raise money for their sponsorships. Ravit Mizrahi and her cousin Liat Dahan decided to think outside the box in order to fill their sponsorship quota in a big way.
Mizrahi and Dahan decided to plan a bake sale and Chinese auction event in order to raise funds for their sponsorships that go directly to Sephardic Bikur Holim. Carla Zeitouni generously opened her home and took the event step further. Zeitouni took the initiative to help with the planning of the event and even had her daughter make a beautiful piece of art which was one of the packages in the chinese auction! The day was dedicated in loving memory of Shula bat Simi and Zehava Zeitouny.
Challah and other foods being sold at the event.
A complimentary Yoga class took place at 10 a.m. and it had a great turnout at about 18 women. The relaxing class took place beside an indoor pool and was given by yoga instructor Randa Bawabeh. Next on the schedule was a cooking demonstration by The Ghetto Gourmet. Aliza Salem or the Ghetto Gourmet, taught the large crowd how to make french lentil salad with spiralized beets and and kale kohlrabi salad with cider vinaigrette.
"I loved being part of this day," Said Aliza. "So many people came out for such a special cause it was really such a great experience to be apart of."
Between 30 and 40 women attended Alizas cooking demo and then stayed for a class given by Mrs Vicky Harari. The class covered the important topic of building confidence in children from a young age.Salads from JUS by Julie were sold as well as juices that were donated by Ouris Fruit.
The children's package displayed at the Chinese auction.
Over 200 people attended the event throughout the day. The Chinese auction was put together and styled on the tables with care. Amongst the ten packages were themes like get fit, woman's, children's, clothing, and furniture. The organizers said the community vendors that donated their goods and services could not have been more gracious and willing to give.
The bake sale donations were also in abundance with professional bakers and home bakers all donating to this worthy cause. There were delicious homemade challah and focaccia breads, baked sweets like cupcakes and biscotti, and even some savory spreads.
Homemade hummus sold at the event.
Community member Brian Marcus, for example made his Brian's Amazin Cilantro Lime Hummus for sale at the event. The event was advertised by word of mouth and some social media announcements. The turnout stands to be a true testament to the kind of community we are.
The final tally of money raised on this day for Team SBH is $14,000.00. Suffice it to say, the day was a great success that was enjoyed by the organizers and attendees alike.
Ravit Mizrahi, one of the organizers of the event, was extremely pleased with the success of the event.
"I really felt great vibes from this event and our community at large. This event of giving almost felt like a glimpse of what the Team SBH Disney Marathon weekend will be like," expressed Mizrahi.
Frieda Schweky is Sephardic.Org's official community events reporter. For inquiries and to get involved with our site, please contact Frieda via email.
You may also be interested in...