Mitzvah Man's 7th Annual Chinese Auction Including Battle of the Arts and BBQ Wars Deemed a Success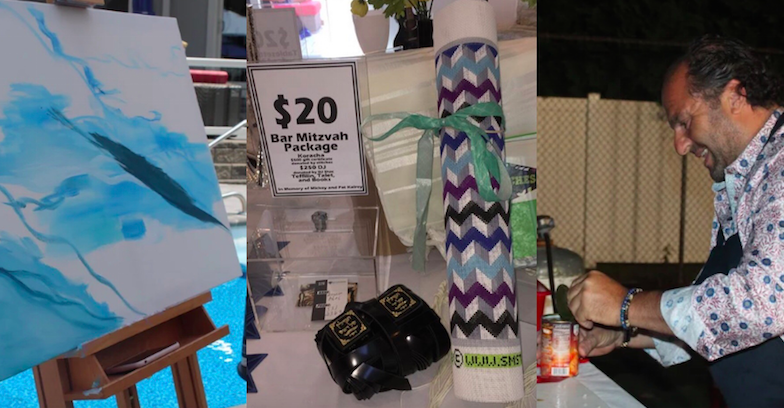 On July 12, the Mitzvah Man organization held it's 7th Annual Chinese Auction fundraising event. Community members flocked to the home of Joey and Pauline Abed for this fun and eventful day.
The jewelry package display at the Mitzvah Man auction.
The Mitzvah Man started out as one man, Michael Cohen, who realized there must be more to life and decided to go out of his way to help others who were in need. Eventually, this turned into something greater, an organization with over 2,700 volunteers doing acts of kindness for anyone who reaches out for help.
Flowers are delivered to the elderly and needy every Friday for Shabbat by Mitzvah Man volunteers. Rides are given to the hospital and back for cancer patients by eager Mitzvah men and women. Volunteers even cook dinner for those who can't do it themselves. These are just a few examples of the hundreds of different acts of kindness that are performed by Mitzvah Man volunteers every week.
Yankees memorabilia up for auction at the Mitzvah Man event.
For a cause so noble, it's no wonder why over 1,000 community members stopped by throughout the day and night of the Mitzvah Man Auction to show their support.
The event featured a full-fledged Chinese auction which included many amazing prizes. A Peloton bike, a framed print donated by artist Elizabeth Sutton, an extensive jewelry package, Yankees memorabilia, and more were all on display so each attendee could choose what they wanted to win.
Inspiration on display for participants in the art battle event.
Not only was an auction being held, but there was also activities throughout the day. The first event of the day was the art battle. Six community artists participated in this one-of-a-kind event. Dina Kraiem of @dinapartyentertainment was the MC for the art battle. Easels were set up around the pool along with canvases and various painting supplies at each station. The diving board for the pool featured the still-life items which were meant to inspire the art works. A unicorn pool float, a guitar, and some yellow flowers were among the items displayed for the still life competition. Pennie Schweky @Penn.ie decided to paint what she saw through her unique lense, which was the Unicorn float, a beach ball, and the guitar while Sarah Cytryn @wallcandy chose to dedicate her whole painting to the guitar.
The finished pieces from community artists who participated in the art battle event.
"The art battle was such a fun experience," said Pennie Schweky. "It was for a great cause and I enjoyed mingling with other artists from our community and seeing their take on the still life that was displayed for us."
Once completed, the paintings were added to the Chinese auction inside the house.
An attendee decorates a cake at the Mitzvah Man event.
While the artists were still going, Eve Elenhorn of @flavorfulfit instructed a crowd of interested women on how to bake healthy snickerdoodle cookies in the kitchen. Once they were baked and cooled, she then scooped coconut ice cream in between two cookies and rolled the edges through a bowl of mini vegan chocolate chips. The crowd then had the pleasure of sampling the healthy ice cream sandwiches.
Next up was cake decorating! Professionally trained pastry chef Sabrina Sabbagh @cakesbysabrina taught a group of 10-15 woman how to decorate intricate and detailed flower cakes. The women really enjoyed the class, each decorating and bringing home their very own cake for Shabbat.
Tina Imani @tinaimaniphotography was doing family portrait sittings for all who attended throughout the day as well.
A community member participating in the BBQ Wars competition.
As day drifted into night, the grills were fired up for the third annual Mitzvah Man BBQ Wars competition. Lawrence Dayan was the MC for BBQ Wars event. Four different teams competed in this heated culinary battle. Team names were the Monkeys, Cooking for My People, the Sizzlers, and Smoke N' Buns. They had to cook, bake, and mix drinks for four hungry judges. Curve balls were periodically thrown their way, for example, one mystery ingredient they were obligated to include in a dish was guava paste.
The winning team of this year's BBQ Wars poses for a picture with their trophies.
The Monkeys took home the gold this year, winning a BBQ grill set, trophy, and most importantly, bragging rights.
The auction and competitions were very successful this year which resulted in a nice amount of money raised for the Mitzvah Man organization.
To find out more about Mitzvah Man, to volunteer, or to donate, head to themitzvahman.org.
Frieda Schweky is Sephardic.Org's official community events reporter. For inquiries and to get involved with our site, please contact Frieda via email.
You may also be interested in...