National Students for Justice in Palestine Refuse to Follow UCLA Cease-and-Desist Letter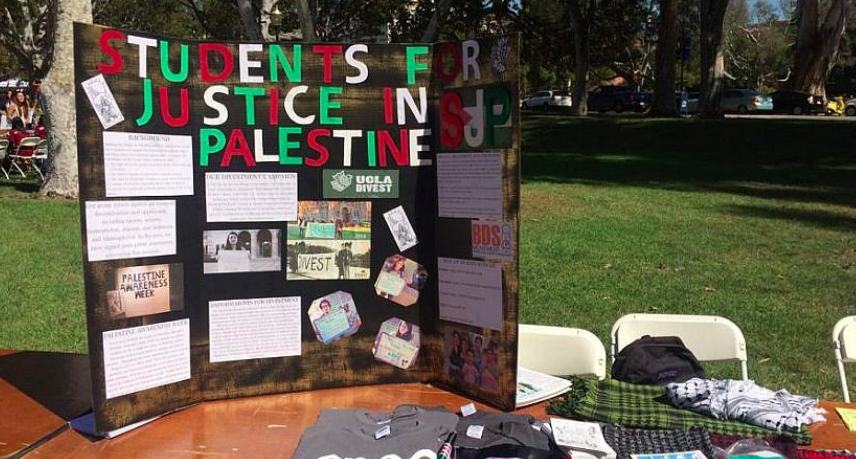 Pictured Above: A Students for Justice in Palestine (SJP) display at UCLA. Credit: SJP UCLA via Facebook.
(JNS) The national chapter of Students for Justice in Palestine has apparently refused to follow a cease-and-desist letter from the University of California, Los Angeles—the site of the annual National SJP (NSJP) conference this month—a day past the deadline.
The letter, dated Oct. 31, states that NSJP's logo for the conference, which will be from Nov. 16-18, consists of "the unauthorized use" of UCLA's Bruin Bear playing with a Palestinian kite, "which some may interpret as an intention to endorse violence against Israel."
NSJP's description of the logo is: "The bear native to California as inspiration for grassroots organizing in the west coast, the kite to signify the power and hope in the Gaza March of Return, the Kuffiyeh, and the birds of freedom leading our way with radical hope towards liberation for all and a Free Palestine."
Michael Beck, the school's administrative vice chancellor, wrote in the letter: "Taken as a whole, these uses claim, suggest, or imply an affiliation with or an endorsement by UCLA of NSJP and/or its annual conference, which is simply incorrect."
He demanded NSJP redo the logo using UCLA's name to demonstrate that the university is just the venue of the conference, and not an affiliate or endorser.
"UCLA did not grant permission for this use, nor would it permit use of its name in a manner that could imply an endorsement of violence," said Beck.
He gave NSJP until Nov. 5 to comply with the demands.
Pro-Israel groups like CAMERA on Campus back UCLA's demands.
"NSJP had until yesterday [Monday] to remove it, and they have not," said Aviva Rosenschein, International Campus Director for CAMERA. "We support UCLA taking this step to make very clear that the institution does not endorse the conference."
"In addition to NSJP's use of UCLA's logo without their permission, the logo itself is a bold declaration in support of the Palestinian terror that has wreaked havoc on adults and children living in Israel's south," she added.
"The kite is described by NSJP as a sign of 'power and hope,' " continued Rosenschein. "Yet this is a sickening distortion of the truth. Kites and balloons are launched from Gaza into Israel by Palestinian terrorists who have drawn swastikas on them and attach Molotov cocktails and other flammable materials to them to burn down Israeli land. In [an] attempt to keep Israeli children safe, balloons and kites are now sources of psychological trauma, as their parents are forced to teach them to fear such toys as they may be attached to explosive devices."
Rosenschein also provided a stark reminder about SJP's hatred, especially in the aftermath of the deadliest attack in American Jewish history on Oct. 27 at Pittsburgh's Tree of Life*Or L'Simcha Synagogue, which left 11 worshippers dead, saying "as we've been sadly reminded by the recent synagogue massacre, words matter."
You may also be interested in...