Netanyahu Rejects Claim of Israeli Involvement in Iran Protests, Criticizes Europe's Silence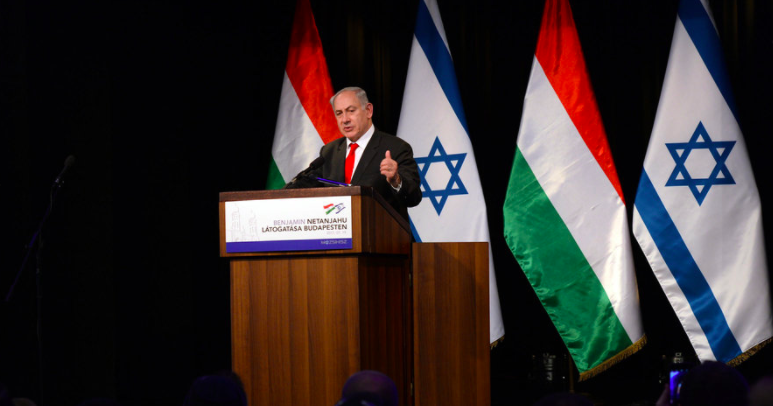 Pictured Above: Israeli Prime Minister Benjamin Netanyahu speaks in Hungary. Credit: Haim Zach/GPO.
(JNS) Israeli Prime Minister Benjamin Netanyahu on Monday rejected Iran's accusation that Israel is behind the new wave of anti-regime protests in the Islamic Republic, and wished the Iranian people "success in their noble quest for freedom."
"I heard today Iran's President [Hassan] Rohani's claim that Israel is behind the protests in Iran," Netanyahu said in a video statement released on his official social media accounts. "It's not only false. It's laughable. And unlike Rohani, I will not insult the Iranian people. Brave Iranians are pouring into the streets. They seek freedom. They seek justice. They seek the basic liberties that have been denied to them for decades."
Netanyahu also criticized "many European governments" for observing the Iranian regime's brutal crackdown on the protests "in silence."
"That's just not right," said Netanyahu. "I for one will not stay silent."
As of Tuesday, at least 20 Iranian protesters were reported killed during the mass demonstrations in Iran.
The country's new wave of popular protests began last Thursday with anti-regime demonstrations in the northeastern city of Mashhad, where 52 protesters were arrested. The protests soon spread to other cities throughout the Islamic Republic.
Thousands of protesters are demonstrating against the Islamic Republic's strained economy, corrupt regime and costly military expansion throughout the region, in what has been characterized as the country's largest wave of anti-government protests since the "Green Revolution" erupted in 2009 following a controversial presidential election.
You may also be interested in...