New Coalition of Jewish Organizations Urges Continued Relief for Houston Jewish Community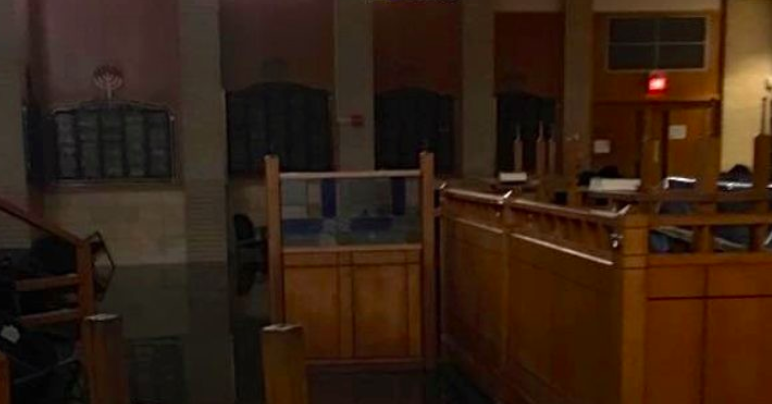 Pictured Above: Flood damage from Hurricane Harvey at United Orthodox Synagogues (UOS) of Houston. Credit: Robert Levy via Facebook.
(JNS) A new coalition of national Jewish organizations has issued a call to other Jewish communal groups across the United States to send volunteers to support the still-urgent recovery needs in Houston following the devastation caused by Hurricane Harvey last August.
The Leadership Coalition for Jewish Service, which includes BBYO, Hillel International, JDC Entwine, Moishe House, OneTable, Repair the World, and the Charles and Lynn Schusterman Family Foundation, has partnered with the Jewish Federation of Greater Houston on #ActNowHouston.
This program will place recruited volunteer groups within ongoing recovery work coordinated by national and local agencies on the ground. #ActNowHouston organizers expect thousands of mobilized volunteers to offer assistance to some of the most vulnerable and underserved communities in the city.
"The need for recovery support remains massive, and Hillel is committed to working with our partners to mobilize the national Jewish community to meet needs across Houston's Jewish and larger community. It is a key part of our commitment to engaging students in tikkun olam," said Eric Fingerhut, CEO of Hillel International, a coalition partner.
Last month, the Israeli government finalized a $1 million donation to the Houston Jewish community.
Hurricane Harvey resulted in nearly 200,000 homes flooded, including more than 2,000 of Houston's 26,000 Jewish households. Thousands of residents remain in temporary housing, which has led to a severe emotional strain on the community.
"We know young Jews across the country are passionate about taking into their own hands the challenge of meeting important needs in our society," Matt Grossman, CEO of BBYO, said in a statement. "The power of our community can be seen in our collective ability to provide opportunities for hundreds of groups and thousands of volunteers to serve that passion in Houston."
Volunteer groups will remove damaged household items and sanitize homes; package food and deliver essentials to the elderly or homebound; work with individuals coping with ongoing hardship; assist local residents in navigating available resources; and help families get back on their feet through the rebuilding process.
Groups can sign up at werepair.org/act-now-houston
You may also be interested in...