Passover Prep Tips from Chef Ruth!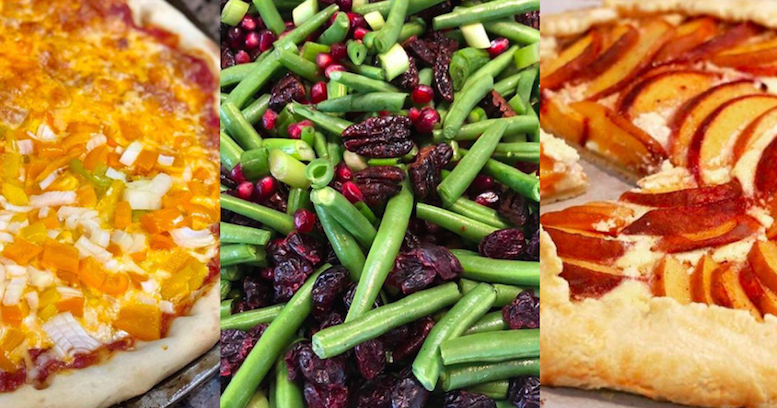 Chef Ruth Bendkowski of @Chef_Ruth is a self taught chef whose passion for cooking drove her to be the successful entrepreneur she is today. Ruth is a private chef, recipe developer, menu developer, instagram food blogger, caterer, and more. She specializes in both meat and dairy cuisine as well as desserts.
Ruth's main occupation, however, is being a private chef. Ruth travels to and cooks full length meals in her clients' kitchens. Bendkowski knows how to cook for all dietary needs and adjusts her recipes and menus according to her clients needs and preferences. She can also be hired to make in-depth menus for any Yom Tov, Chol Hamoed, or any other special occasions.
Gluten-free cinnamon roll made by Chef Ruth.
When Ruth is hired to plan a menu, she gathers information on the client, amount of guests, dietary needs, culture, customs and more. She then gets to work writing up a detailed menu that includes recipes, shopping lists, and heating and prepping instructions. She wants her clients to feel at peace when they come to the table, like everything is taken care of so they can relax enjoy the delicious meal.
"Last year my mother broke her knee and was unable to cook the various Pesach meals so we contacted Ruth," said Shana Eichenholts, one of Ruth's clients. "Ruth is the epitome of efficiency and professionalism. Within hours, she had all the meals and desserts cooked, freezer stocked with helpful thaw and heat instructions on each item, entire kitchen clean from dishes to countertops to floors, and each utensil put back in its place!"
A classic chicken soup prepared by Chef Ruth.
What differentiates chef Ruth is that she truly knows the science of food so she's able to substitute any ingredients if need be.
"For a while, my child couldn't eat sugar and white flour and Ruth managed to cook for us and satisfy us all with her one of a kind recipes that she came up with just for us," said Shifra Shwartz long time client of Ruth's. "She knows exactly how and when to help too. When I was giving birth, she filled my entire freezer and releaved a lot of stress from me."
"I have Crohn's disease and at points in my life, like right now for example, I have an extremely limited diet," shared Ruth of her personal dietary needs. "I might be limited on ingredients, but I'm never lacking flavor. If I can cook for this diet, I can cook for any, and I do!"
Kale shakshuka with Moroccan meatballs and sausage made by Chef Ruth.
Ruth is Sephardic, Jordanian from both sides, but was raised in Borough Park, NY and married an Ashkenaz man from Lakewood, NJ. Her mixed culture resulted in her original cooking style. When it comes to holidays, Ruth knows trendy food is exciting, but what brings people joy is the classic dishes they grew up with. This is why she works hard to satisfy each one of her clients individual culture.
This year alone, Ruth already planned 36 different menus for all her different clients and families. From appetizers to mains to sides and desserts, as well as handy meals to take on Chol Hamoed day trips, she even asks who will be joining you so they will be included as well.
String beans with dried cranberries and pomegranites prepared by Chef Ruth.
Smoked meats, handmade pasta, fresh made bagels, pizza, and french fries, are just a few of the things Ruth has perfected. No matter her mood, she channels her energy into creating something new in the kitchen.
Here are some helpful Pesach prep tips from Chef Ruth.
1. Make a menu for each meal for both Yom Tov and Chol Hamoed days alike.
This would be your first step as soon as you know which meals you're going to make and how many guests per meal. Take note of the different customs and dietary needs of all your guests and begin to write out your menu with that in mind. Once you have your menu you can begin to make a shopping list!
2. Stock your freezer with easy-to-serve meals and snacks for the kids.
Homemade fish sticks are easier than you'd think to throw together!
Bread some chicken cutlets with egg and matzo meal for easy to thaw and serve schnitzel.
Mini Pesach muffins with a small hot dog in the center can be a creative way to satisfy the younger kids.
For a sweet treat, boil apples (or applesauce) in some grape juice. Puree the mixture, pour into popsicle molds, and freeze! Just like that, you'll have homemade Kosher for Passover pops that are so simple and a real crowd pleaser!
3. Don't sweat the appetizers and side dishes.
Ruth says many people are intimidated by preparing appetizers and side dishes for their holiday meals. Something simple to do is just buying fresh vegetables and roasting them in the oven with some oil and salt.
Also, you should prep sauces, roasted garlic, and fried onions in advance and freeze in small containers so you can grab, thaw, and use as needed.
Keep bags of shredded cabbage, carrots, beets, and baby vegetables in the fridge for quick salads. Also, it's key to make your favorite dressings in advance and store in mason jars in the fridge so a salad comes together in seconds when you need it.
A simple alternative to pick up appetizers is a savory pie. Using potatoes as crust, browned chop meat for filling, and beef jerky for topping, you can make a simple throw-together appetizer that will feed a crowd!
4. Quantity over variety when it comes to Pesach baking.
When it comes to prepping Pesach desserts, don't attempt to make the whole cookbook. Make two or three things that you know your family loves and just make great quantities of those things. Remember, it's only an eight day holiday so your family won't get sick of things that easy so keep it basic!
To see more beautiful food pictures and for more ideas and information, head to Instagram and follow @Chef_Ruth.
Frieda Schweky is Sephardic.Org's official community events reporter. For inquiries and to get involved with our site, please contact Frieda via email.
You may also be interested in...