Patriots Owner Robert Kraft to be Awarded 'Jewish Nobel'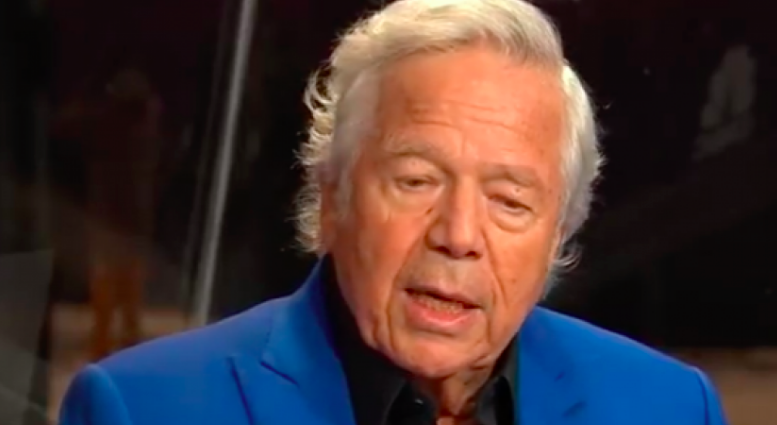 Pictured Above: New England Patriots owner Robert Kraft. Credit: Screenshot.
(JNS) New England Patriots owner Robert Kraft will be awarded what Time magazine has dubbed the "Jewish Nobel:" the Genesis Prize, one of Israel's top awards.
Kraft, 77, will be given the honor for his longtime contributions to the State of Israel and the overall Jewish community.
He will decline the $1 million prize, as has been customary, which he intends to donate to causes that combat anti-Semitic and anti-Israel sentiment, both of which Kraft has spoken out against for decades.
Kraft visited the Tree of Life*Or L'Simcha Synagogue in Pittsburgh last month on Shabbat to pay his respects to the 11 Jewish victims of the Oct. 27 shooting. The visit was followed by an address to another area congregation.
Additionally, his Major League Soccer team, the New England Revolution, will host the U.K. Chelsea Football Club in a benefit match in May at Gillette Stadium in Massachusetts. All proceeds from the game, in addition to a $1 million personal contribution from Kraft, will be given to groups that fight bigotry, including anti-Semitism.
"I am honored to receive the Genesis Prize, and thank the Genesis Prize Foundation for its recognition and willingness to direct my prize monies to such worthy causes," said Kraft. "This award amplifies my ability to raise both awareness and additional funds to fight anti-Semitism, attempts to delegitimize Israel and other forms of prejudices. It is important that we continue to support organizations that focus on combating prejudices by building bridges and uniting people of different backgrounds."
"I applaud Robert Kraft's decision to focus his energies and the Genesis Prize award funds on combating anti-Semitism, the delegitimization of Israel and racially motivated hate crimes," said Isaac Herzog, head of the Genesis Prize Selection Committee and chairman of the Jewish Agency for Israel. "The rising tide of anti-Semitism is a threat not only to Jews, but to the very fabric of any democratic society where it is allowed to take place. We cannot be blind to history's lessons. The time to act is now."
Stan Polovets, co-founder and chairman of the Genesis Prize Foundation, said: "We are delighted to welcome Robert Kraft to the outstanding family of Genesis Prize Laureates. I cannot think of a more worthy laureate to follow U.S. Supreme Court Justice Ruth Bader Ginsburg, whom we honored last July. Like Ginsburg, Kraft has spent most of his life advocating for a more just society, tolerance and inclusiveness. He is one of the world's most generous philanthropists whose charitable giving reflects the Jewish value of tikkun olam, repairing the world."
You may also be interested in...