Pompeo Asserts Pressure Campaign Against Iran, Aiming its Ouster from Syria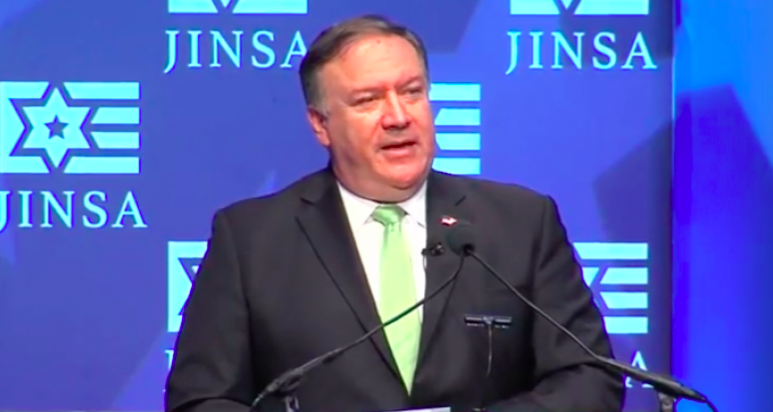 Pictured Above: U.S. Secretary of State Mike Pompeo addresses the 36th Annual Jewish Institute for National Security of America Awards Dinner, in Washington, D.C. on October 10, 2018. Credit: YouTube screenshot.
(JNS) U.S. Secretary of State Mike Pompeo continued the Trump administration's maximum pressure campaign against the Iranian regime on Wednesday, promising to oust its presence in Syria.
Echoing National Security Advisor John Bolton's announcement last month that American troops would remain in Syria "as long as Iranian troops are outside Iranian borders," Pompeo blasted Iranian leadership, remarking on their label as the world's leading state sponsor of terror.
"President Obama thought if he made dangerous concessions, removed economic sanctions and flew a plane full of cash to Tehran, he could somehow hug Iran's leaders into behaving well and rejoining the community of nations," Pompeo told the Jewish Institute for National Security of America.
"But those leaders aren't from a Disney movie," he continued. "They're real. They're not tragically misunderstood. They are murderers and funders of terrorism who lead chants—today, still—of 'Death to America.' Their goals include profiting off the misery of their own people and wiping Israel off the face of the Earth."
Pompeo said the U.S. fight in Syria will not just be about countering the Islamic State. "ISIS, though not completely snuffed out, has been beaten into a shadow of its former self," he said. "These changing circumstances have required the reassessment of America's mission in Syria.
"Defeating ISIS, which was once our primary focus, continues to be a top priority, but it will now be joined by two other mutually reinforcing objectives," he continued. "These include a peaceful and political resolution to the Syrian conflict and the removal of all Iranian and Iranian-backed forces from Syria."
Pompeo elaborated that the plan includes arming the Syrian Kurds, whom he called a close U.S. ally, and "to ensure that Iran never has the capacity to have a nuclear weapon for all time, in any form."
Finally, Pompeo said that Syria will not "receive one single dollar from the United States for reconstruction."
You may also be interested in...