Pompeo, Kushner Discuss Upcoming Mideast Peace Proposal with Jordanian King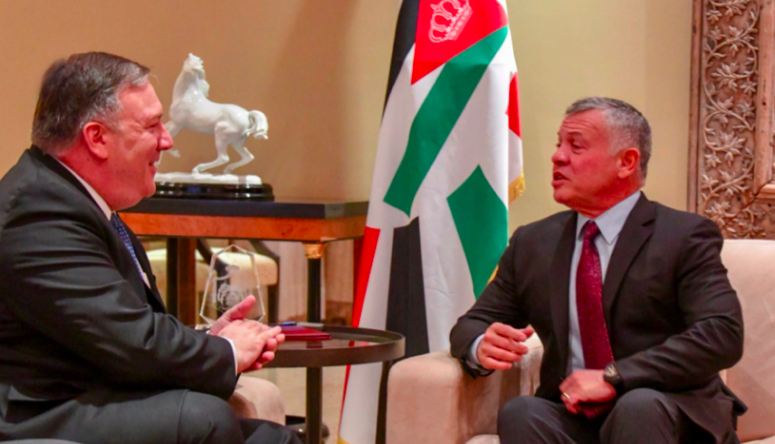 Pictured Above: U.S. Secretary of State Mike Pompeo meets with King Abdullah II of Jordan in Amman on Jan. 8, 2018. Credit: Screenshot via Secretary Pompeo/Twitter.
(March 12, 2019 / JNS) U.S. Secretary of State Mike Pompeo, White House senior adviser Jared Kushner and special envoy Jason Greenblatt discussed the Trump administration's upcoming Mideast peace plan on Monday with Jordanian King Abdullah, reported Reuters, citing a U.S. source familiar with the 45-minute meeting that occurred at the Jordanian ambassador's residence in Washington.
The peace plan is scheduled to be released after Israeli elections on April 9.
Additionally, Abdullah met with U.S. Vice President Mike Pence to discuss the battle against Islamic State and the administration's decision to leave a small force in Syria, according to the vice president's office.
The king also met with U.S. Acting Defense Secretary Patrick Shanahan to discuss defense and military cooperation between Jordan and the United States.
"The meeting covered the latest developments in the Middle East, efforts to reach political solutions to regional crises, and efforts to fight terrorism within a holistic approach and Jordanian-U.S. cooperation in this regard," said the Jordanian embassy in a statement.
Abdullah is scheduled to meet members of Congress on Tuesday on Capitol Hill, including members of the Senate Foreign Relations Committee.
You may also be interested in...