Protest for Gaza in Ramallah Leads to Violent Palestinian Authority Crackdown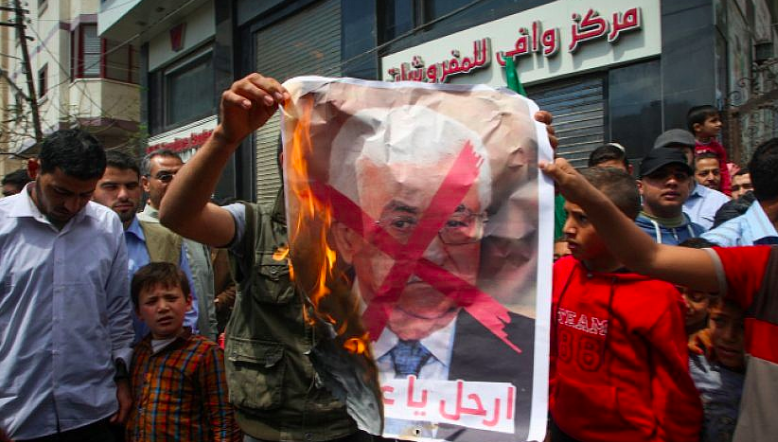 Pictured Above: Palestinians burn a crossed poster depicting Palestinian President Mahmoud Abbas in Khan Younis in the southern Gaza Strip April 14, 2017. Photo by Abed Rahim Khatib/Flash90.
(JNS) A protest by scores of Palestinians in Ramallah against Palestinian Authority sanctions on Hamas-ruled Gaza was violently broken up by PA police on Wednesday, who arrested 10 demonstrators.
The police crackdown included the use of electric shockers and batons, as well as undercover officers who dragged away participants, including the student body president of Birzeit University.
A brutal coup by Hamas in 2007 led to the ouster of the PA in Gaza, just two years after Israel unilaterally withdrew from the Jewish Gaza communities of Gush Katif, forcibly evicting over 8,000 Jews from their homes in a bid to make way for a Palestinian state in Gaza. Since then, numerous attempts at reconciliation have failed, with Abbas cutting funds for vital services such as electricity as a way of trying to force Hamas to capitulate. In April 2017, he slashed the salaries of 60,000 civil employees by 30% and ordered a third of the employees to go into early retirement.
The Wednesday protest was in contravention of a temporary ban on public protests by the Palestinian Authority, following a Sunday protest in Ramallah attended by approximately two thousand people, who called on Abbas to desist in financially punishing Gaza.
Protesters said that while they held Israel primarily responsible for the blockade on Gaza, President Abbas was also to blame, and urged him to lift sanctions and restore funding to the contentious area.
Both Israel and Egypt have maintained heavy restrictions on import and export from Gaza for the last decade, due to Hamas' substantial underground weapons and terror-related materials trade.
You may also be interested in...