Qatari-Bought Fuel Arrives in Gaza to the Ire of Abbas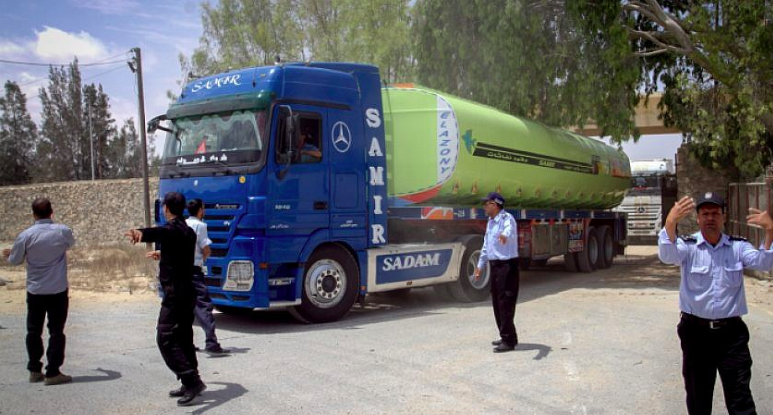 Pictured Above: Palestinian security forces stand guard as Egyptian trucks carrying fuel drive down a street after entering the southern Gaza Strip from Egypt through the Rafah border crossing on June 21, 2017. Photo by Abed Rahim Khatib/Flash 90.
(JNS) Fuel purchased by Qatar arrived in Gaza through Israel on Tuesday in an effort to solve power shortages, but the delivery drew criticism from the Palestinian Authority, which objected to relief being provided to Hamas-controlled Gaza.
Six trucks carrying 450,000 liters of fuel crossed through Kerem Shalom, with at least one making its way to the central power station in Gaza City. The fuel was part of a $60 million fuel donation from Qatar.
According to reports, the P.A.'s objections to Gaza receiving resources, due to its control by a rival, has resulted in some areas of Gaza receiving just four hours of electricity a day. The new delivery will add several hours per day to the electricity ration for approximately six months.
Fatah and Hamas have long experienced friction. The antagonism came to a head in 2007, when a short civil war in Gaza resulted in Hamas taking control of the western land strip situated between Israel, Egypt and the Mediterranean Sea. Fatah retains control of the P.A., which occupies territory in Judea and Samaria on the eastern side of Israel.
Representatives of P.A. leader Mahmoud Abbas expressed outrage over the humanitarian aid, saying all supplies to Gaza should be approved by them.
"Any international financial aid to the Gaza Strip should be through, or with the coordination of, the [Fatah-led] Palestinian government," spokesman Rami Hamdallah told Al Jazeera, saying it was necessary to "preserve Palestinian unity."
However, Hamas spokesman Hazem Qassem from Gaza said the deliveries had to be made "through the United Nations because of the vacuum left by the P.A."
In recent months, the P.A. has slashed the budget to Gaza in a bid to bring Hamas to its knees, including pay cuts to public workers by as much as 30 percent.
Israeli officials expressed concern that a P.A. withdrawal of $96 million could lead Hamas to attack Israel as a way of gaining legitimacy with its constituency in the wake of a humanitarian crisis, and that the spark in violence could also ignite increased terrorist fervor in Judea and Samaria.
"Abbas is strangling them economically and they lash out at Israel," Israeli Prime Minister Benjamin Netanyahu told press in his office on Tuesday.
He also said that if Hamas attacks Israel, "the price they will pay will be very great."
"I am not looking to launch unnecessary wars," he said. "But if there is no alternative, you wage war with all your strength."
You may also be interested in...