Report: Pompeo Says as Situation Stands, Mideast Peace Plan is 'Unexecutable'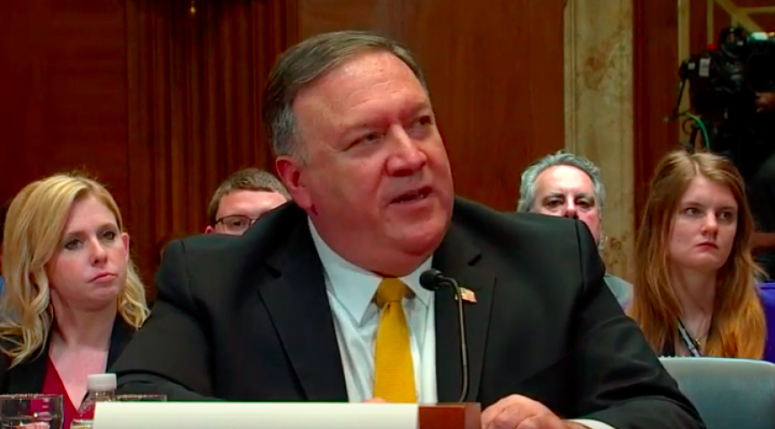 Pictured Above: U.S. Secretary of State Mike Pompeo testifies in front of the Senate Foreign Relations Committee on April 9, 2019. Credit: Screenshot.
(JNS) U.S. Secretary of State Mike Pompeo apparently acknowledged in a closed-door meeting in New York last week that the Trump administration's highly anticipated peace proposal between the Israelis and the Palestinians may not be "gain traction," and is currently "unexecutable."
"It may be rejected. Could be in the end, folks will say, 'It's not particularly original, it doesn't particularly work for me,' that is, 'It's got two good things and nine bad things, I'm out,' " said Pompeo in an audio recording, obtained by The Washington Post, of the private meeting with the Conference of Presidents of Major Jewish Organizations.
"The big question is can we get enough space that we can have a real conversation about how to build this out," he said.
"This has taken us longer to roll out our plan than I had originally thought it might—to put it lightly," added Pompeo.
In response to the sentiment that the peace deal will favor Israel more than the Palestinians, Pompeo said, "I get why people think this is going to be a deal that only the Israelis could love. I understand the perception of that. I hope everyone will just give the space to listen and let it settle in a little bit."
U.S. President Donald Trump echoed Pompeo's sentiment on Sunday.
"We'll see what happens," Trump told reporters before leaving for an official visit to the United Kingdom. "We're doing our best to help the Middle East."
"If we can get a Mideast peace plan that would be good," he added. "And when Mike says that, I understand when he says that, because most people think it can't be done. I think it probably can. But as I say often, we'll see what happens."
When the peace plan will be released is to be determined, a Trump administration official told JNS on Thursday.
"The Bahrain workshop will go on as scheduled, June 25-26," said the official in an email. "As far as the rest of the plan/rollout, we've long said that we will release the plan when the timing is right."
Kushner said in April that the so-called "deal of the century" would be released after Ramadan, which concludes on June 4.
The Bahrain workshop is the first part of the peace proposal rollout and is expected to deal with revitalizing the Palestinian economy.
The second part is expected to deal with the political issues surrounding the conflict, including geographic boundaries.
Nonetheless, the Palestinian Authority believes that Israel's unprecedented election status will delay the remaining part of the rollout, reported Haaretz on Thursday.
The failure of Israeli Prime Minister Benjamin Netanyahu to form a coalition largely came as a result of an impasse between former defense minister and Yisrael Beiteinu leader Avigdor Lieberman and the ultra-Orthodox parties—Shas and United Torah Judaism—over a military draft bill for ultra-Orthodox men.
You may also be interested in...