Report Suggests that Trump's Mideast Team Seeks an End to Palestinian 'Refugee' Status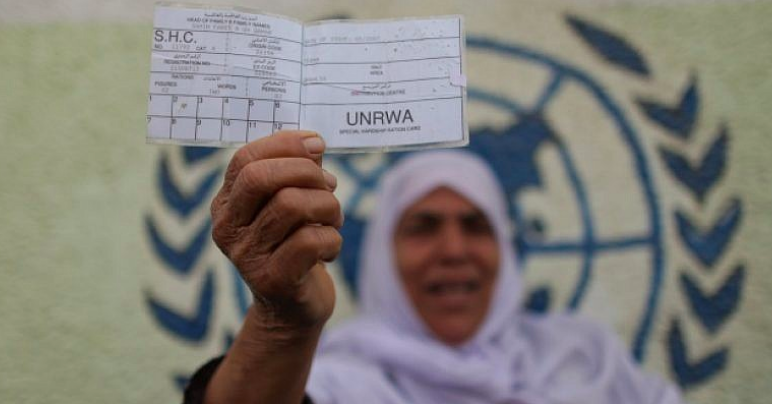 Pictured Above: A Palestinian woman stands in front of UNRWA headquarters in Gaza City holding her refugee ration card during a protest demanding that the United Nations agency resume aid, April 8, 2013. Photo by Wissam Nassar/Flash90.
(JNS) U.S. President Donald Trump's Middle East policy team's effort to shutter the United Nations Relief and Works Agency (UNRWA) may include efforts to clarify that millions of Palestinians are not refugees, according to a report on Friday.
Emails published by Foreign Policy magazine show that Jared Kushner, senior adviser and son-in-law of Trump, and member of the president's Middle East policy team, is critical of the organization, which is solely dedicated to operations concerning Palestinian refugees that was formed in 1949.
"It is important to have an honest and sincere effort to disrupt UNRWA," Kushner wrote in a Jan. 11 email, prior to the freezing of $65 million in funding by the United States to the organization. "This [agency] perpetuates a status quo, is corrupt, inefficient and doesn't help peace."
Also in January, an adviser to Middle East peace envoy Jason Greenblatt suggested the dissolution of UNRWA as part of an effort to solve the Arab-Israeli conflict.
"UNRWA should come up with a plan to unwind itself and become part of the UNHCR [U.N. High Commissioner for Refugees] by the time its charter comes up again in 2019," wrote Victoria Coates.
She said the idea one that was "informed by some thoughts I've picked up from Jared, Jason and Nikki," referring to Nikki Haley, the U.S. ambassador to the United Nations.
The report quoted a Palestinian leader who said that Kushner and Greenblatt asked Jordan in June to remove the refugee status of some 2 million Palestinians living in in the country in order to end the mandate for UNRWA's operations in Israel's neighboring country.
Top Palestinian negotiator Saeb Erekat accused Kushner and Greenblatt of seeking the "termination" of UNRWA by providing aid funding directly to countries that have become home to Palestinians, as well as by solving the Gaza humanitarian problem through direct funding, as opposed to channeling it through UNRWA.
"All this is actually aimed at liquidating the issue of the Palestinian refugees," said Erekat.
A spokesman for the Israel Embassy in Washington, Elad Strohmayer, told Foreign Policy that Israel believes "that UNRWA needs to pass from the world as it is an organization that advocates politically against Israel and perpetuates the Palestinian refugee problem."
UNRWA has deemed all Palestinians who left Israel, as well as all their descendants, to be refugees, despite the fact that international law does not extend refugee status to the descendants of refugees. According to UNRWA, the number of Palestinian refugees stands at 5 million people; however, when descendants are removed from the equation, the number stands at the low tens of thousands.
You may also be interested in...